Regular price
Sale price
$56.00 USD
Unit price
per
Sale
Sold out
Organic

Personalised Gift

Free & Fast Delivery
Treat a loved one with this thoughtful pamper, sleep & wellness gift box. The perfect gift to pamper, relax and support a restful nights sleep.
Details

Open your wellbeing gift box and imagine...

Being pampered by the nurturing power of plants with an all natural, organic make your own body cream kit, in a few simple steps they will be able to feel the amazing superpowers of moisturiser made by them, for them. 

Taking a moment with the give yourself kindness journal, passionate to offer reassurance that the same kindness we readily give to our friends we can give to ourselves too. This highly recommended wellness journal is the award winning Happiful's senior writer's "must-have". 

Relax the senses with the dream tones of the award winning Sleepy Head sleep spray. Support sleep with organic lavender blended with soothing chamomile and frankincense - a powerful combination to de-stress and unwind.

Make your gift extra special and personalise by adding your very own gift message.

Pampering, soothing & kind: the ultimate gift to support wellbeing.

More details:

~ All Natural, Organic Make Your Own Body Cream Kit. Everything you need to create luxurious cream in minutes - pour, melt, mix & moisturise! 14ml organic cold pressed jojoba oil, 7g organic unrefined shea butter, 7g organic extra virgin coconut oil, 3.5g organic beeswax granules (measured for approximately 30ml cream) - all sourced as organic, highest quality ingredients.

~ Give Yourself Kindness Journal. A5, 224 pages (undated with 3 months of daily double page entries), luxury 150gsm sustainably sourced paper from FSC-certified forests, printed in the UK, designed in the UK by Give Yourself Kindness.

~ Sleepy Head Mist (30ml). Handmade in the UK by Made By Coopers. 100% natural, vegan, ethically produced and made with no nasties. Ingredients: Spring Water, Witch Hazel Distillate, Chamomile Flower Water, Essential oils of: Lavender, Frankincense, Emulsifan, Preservative 12.

All products are ethically produced - with connection to nature and kindness to the environment in mind - and only plastic free and compostable packaging is used. 
Delivery

FREE 1st class Royal Mail delivery on all UK orders.
Next day delivery (Royal Mail guaranteed) is also available at the checkout (£6.95).
Same day dispatch if ordered before 1pm (Monday - Friday).
Our products through our customers' eyes

"Super luxurious, a wonderful economy friendly treat."

"Bought this as a gift, I was told it was a brilliant buy and left their skin feeling divine!"

"Fab service, great product and fast delivery 😊"
View full details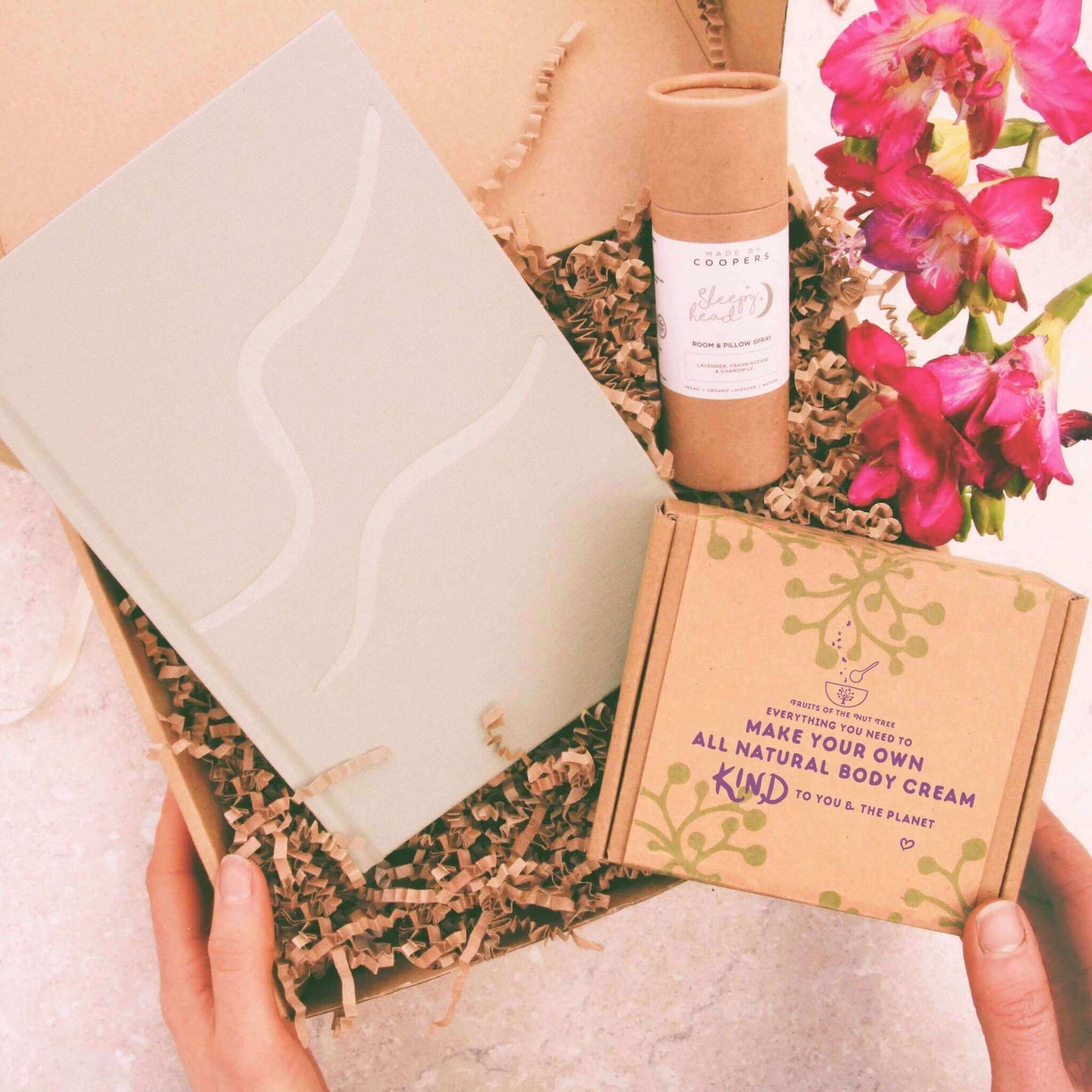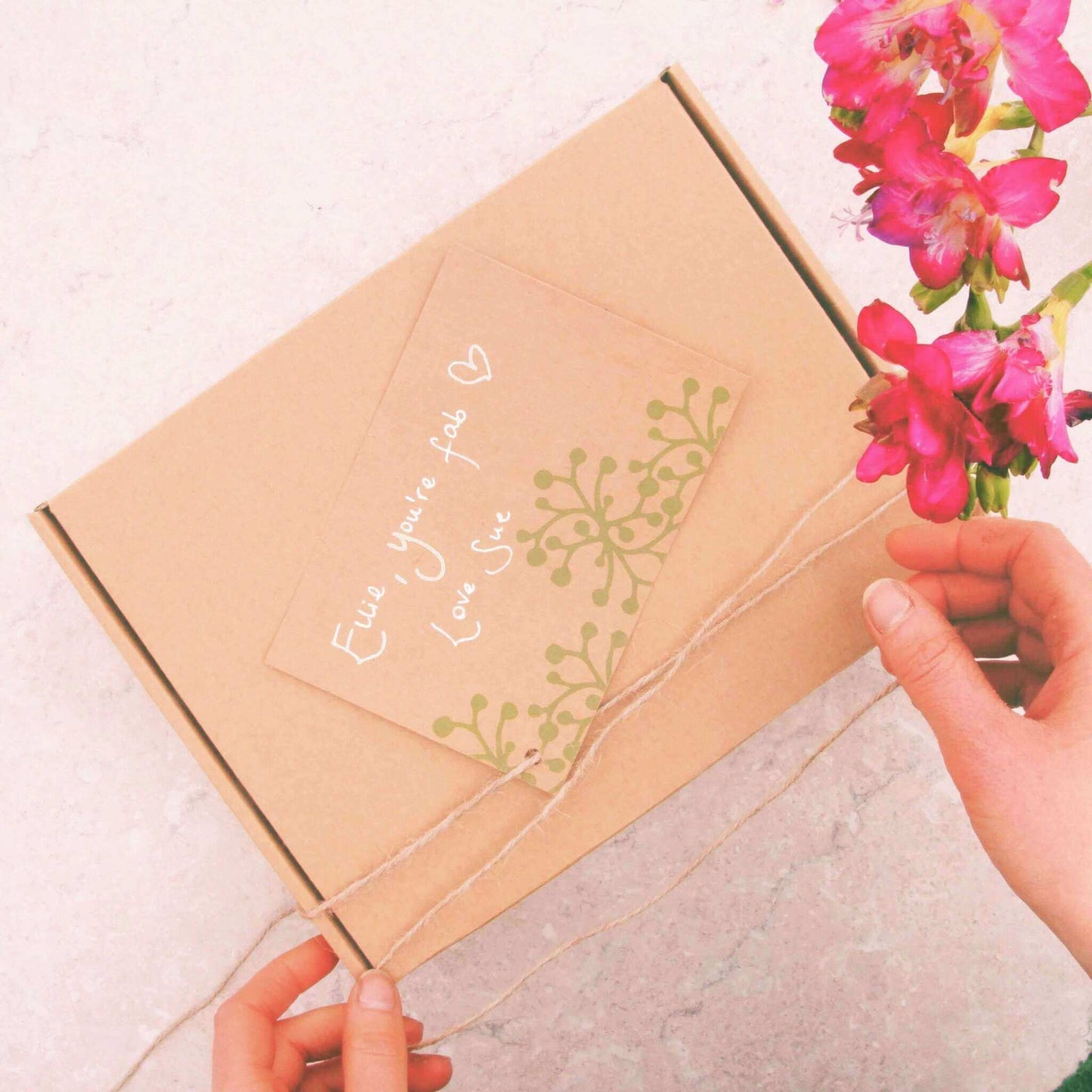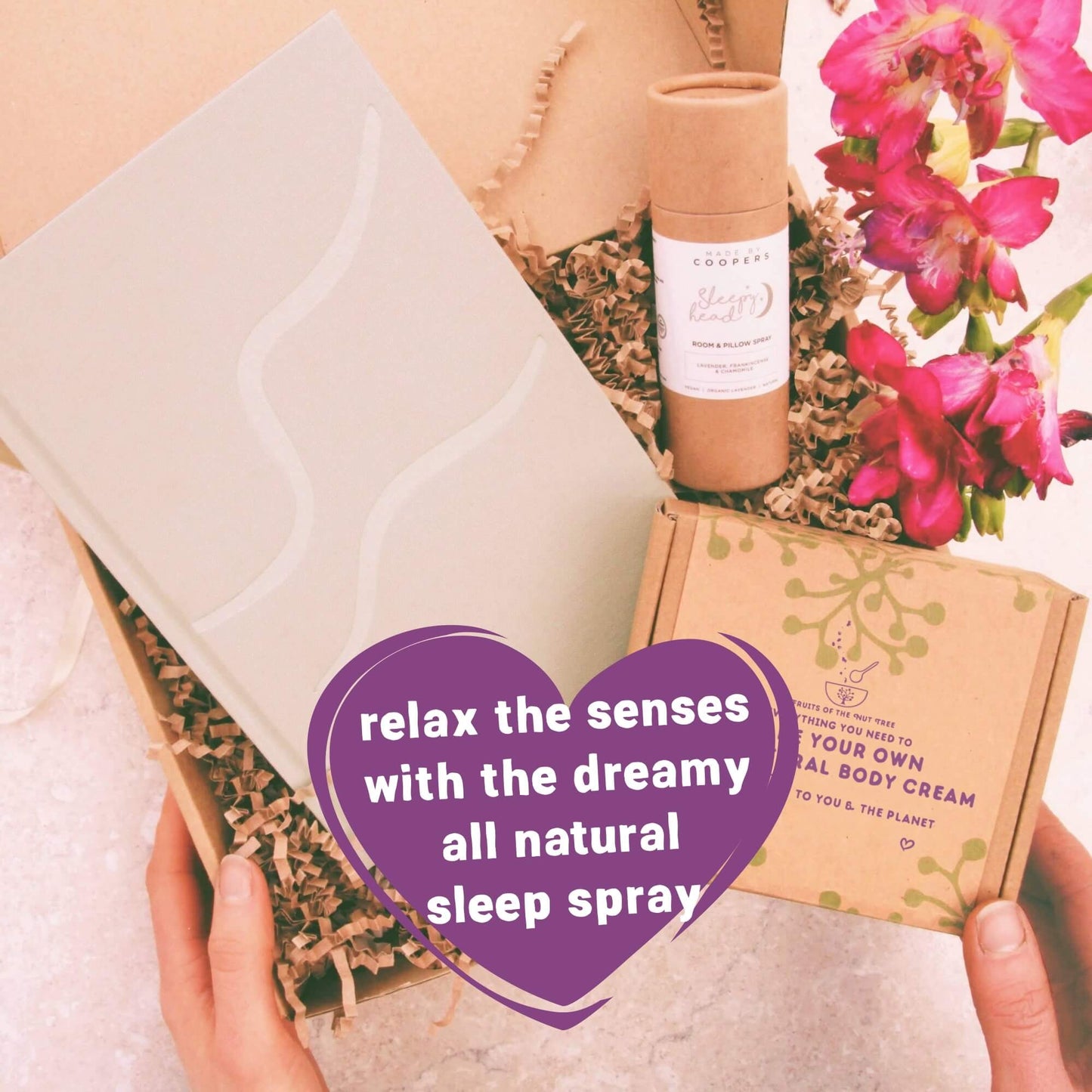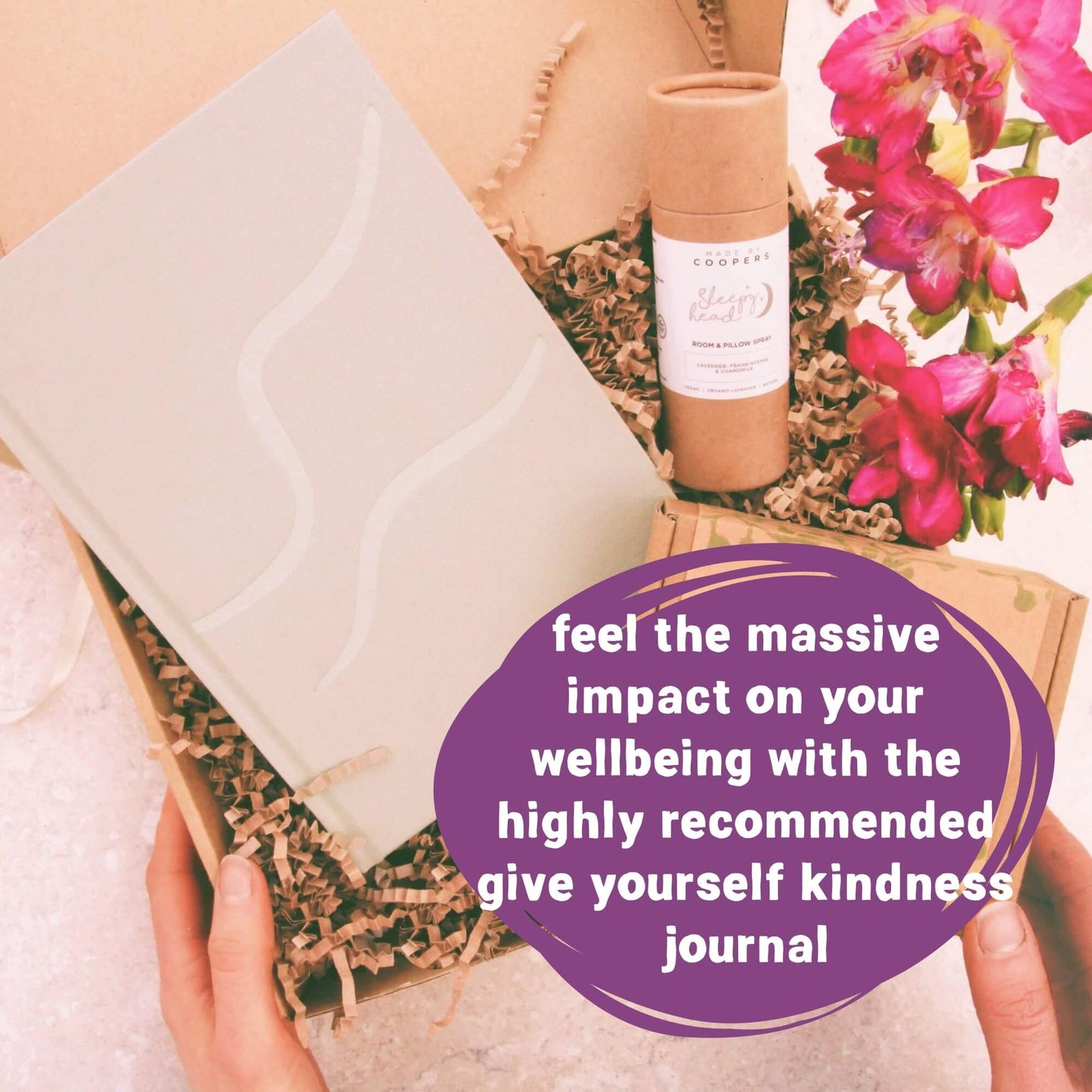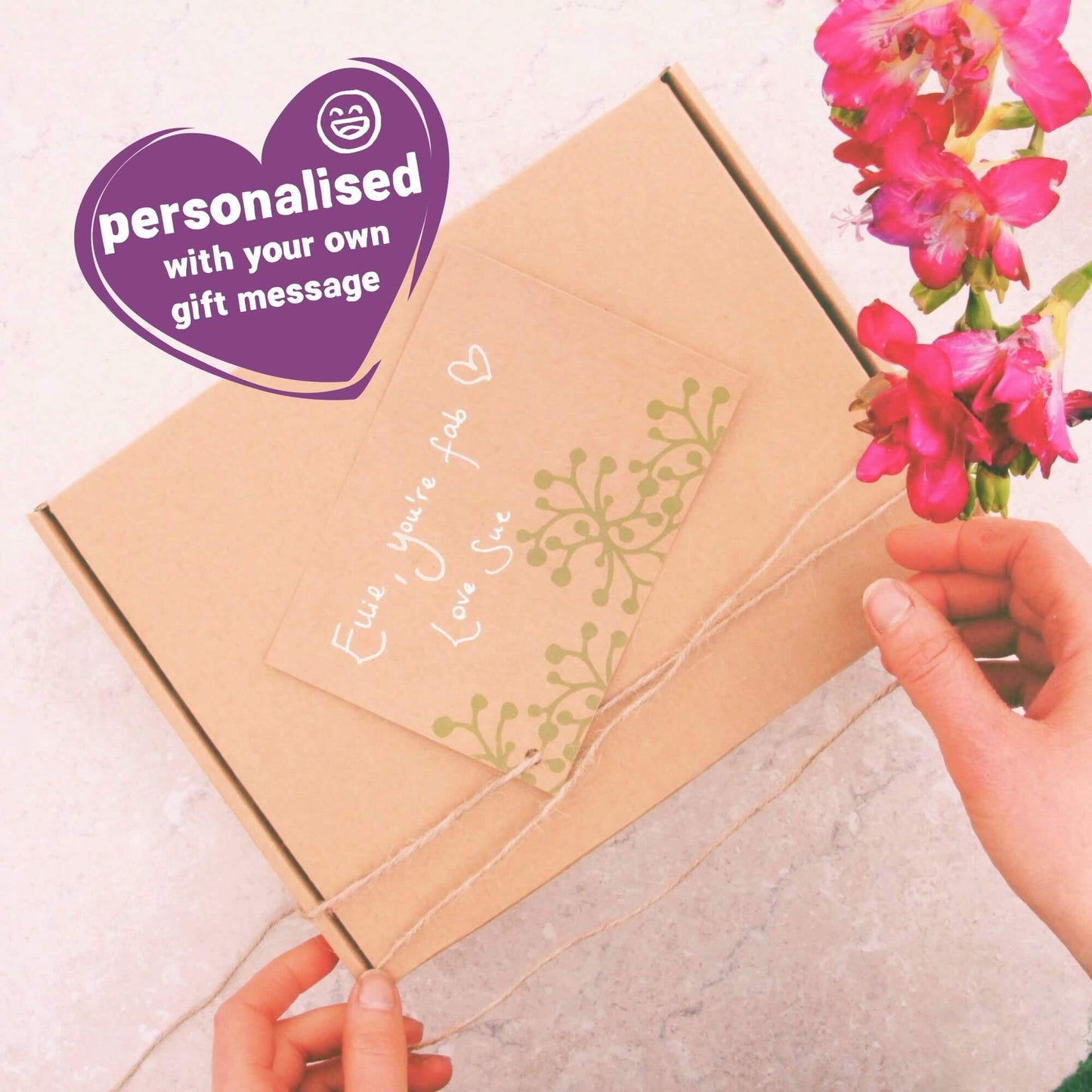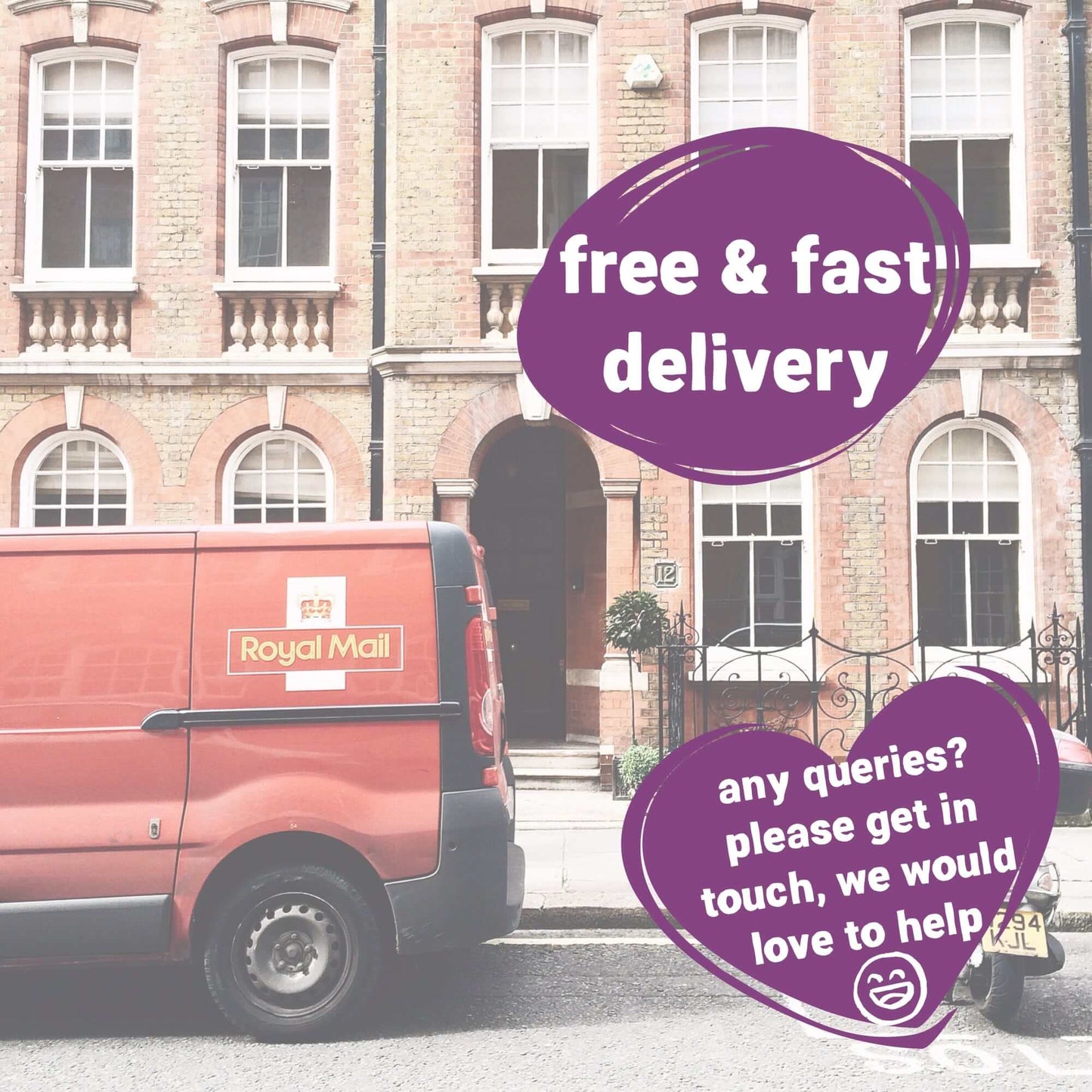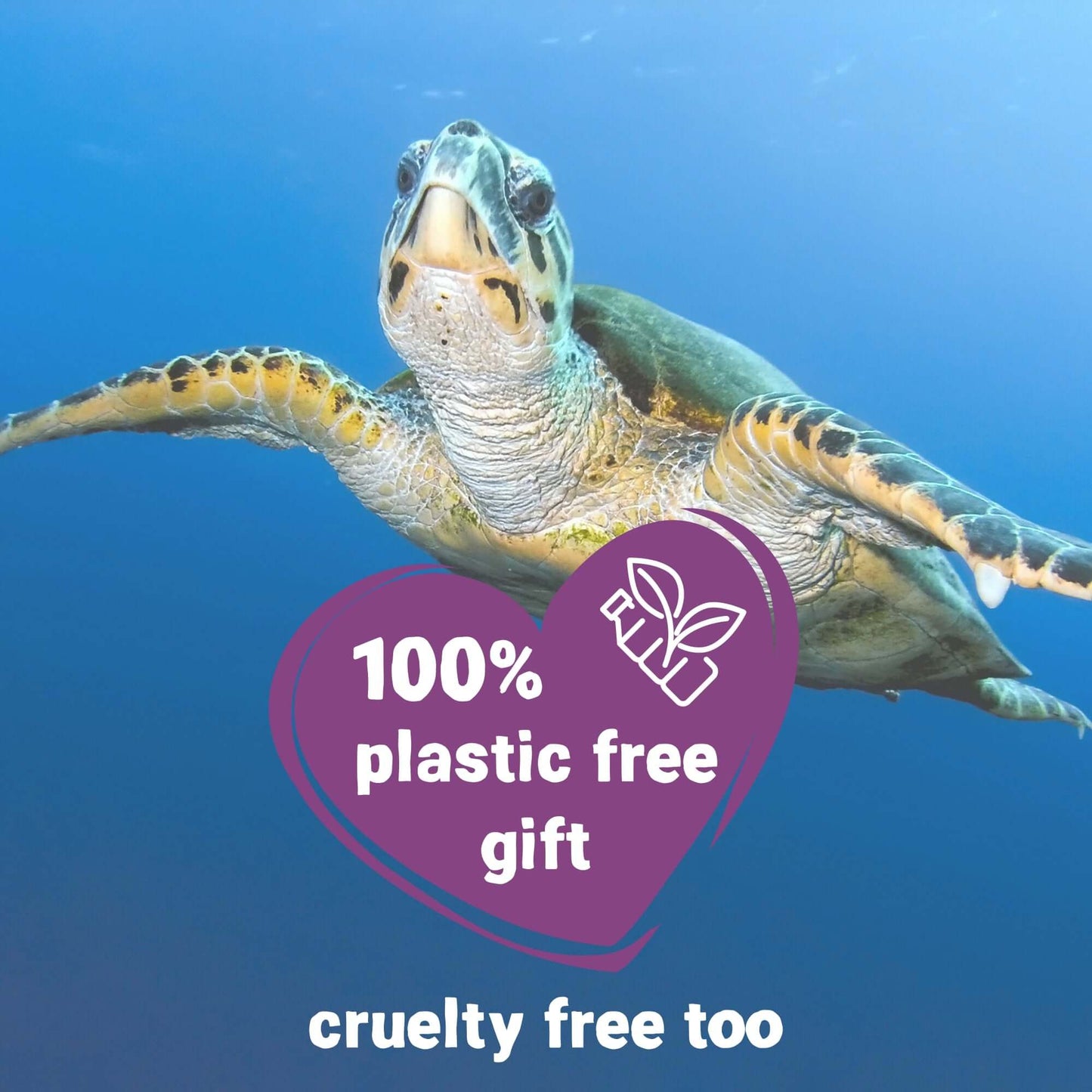 Sleep & Wellbeing Gift Box: Your Questions Answered
Can I send this gift box directly to the recipient?

Yes, absolutely! We would love to surprise your loved ones with this gift box, and we're very happy to send it directly to the recipient. Just enter the recipient's name and address as the shipping address at checkout, and we'll take care of the rest.

We can also include a personalised gift message, added to sealed inside the gift box, to make it even more special for the recipient. Just make sure to include your message in the "Gift Message" field on this page, and we'll take care of the rest.

And don't worry, no pricing information is included.
How eco-friendly is this gift box?

We're committed to being as eco-friendly as possible, which is why we choose to use only organic ingredients in our gifts. Not only does this support the health of our soil and environment, but it also means that our products are kind to your skin. We also take great care in our packaging, ensuring that it is completely plastic-free and home compostable. By choosing our gift, you can feel good about treating yourself or a loved one while also being kind to the planet.
What are the delivery options for this gift box?

We offer free 1st class Royal Mail delivery on all UK orders, which typically takes 1-2 working days to arrive. If you would like your order sooner, we also offer a next day delivery option at checkout for £6.95. And if you order before 1pm Monday to Friday, we'll dispatch your order on the same day!

We're dedicated to ensuring that your gift reaches its destination swiftly, allowing your loved ones to relax and be pampering without delay. If you have any questions or queries about delivery, please get in touch with us, we would love to help.
Can you tell me more about the give yourself kindness wellness journal?

Discover the power of self-compassion with the Happifuls senior writer "must-have" Give Yourself Kindness journal. Find three months of ever changing nurturing prompts, creating a supportive space to explore the minds journey, supporting you to replace self-judgment with self-kindness and explore your emotions with curiosity and compassion.

Feel empowered & supported to flow through all of life's challenges with the give yourself kindness journal - the self kindness toolkit here to help.
Can you tell me more about the 'sleepy head' sleep spray?

This award-winning 'Sleepy Head' sleep spray is made with the magical blend of organic lavender, chamomile, and frankincense. This powerful combination is designed to help you de-stress and relax, supporting a blissful and dreamy night's sleep. Trusted by thousands of customers and named 'Sleep Category Winner' in the Natural Health Magazine Beauty Awards 2021, this spray is perfect for anyone looking to improve their sleep and supporting relaxation.
How does this gift box support sleep?

Sleep is such an important part of our lives, but for so many - which is so understandable - it is incredibly challenging and we would love to help. Sadly there is no quick fix or guaranteed remedy for sleep but we have carefully chosen highly recommended and award winning gifts to support your sleep and support you. Inside your gift box find the incredibly supportive and kind Give Yourself Kindness journal - let journaling create a space for you to write down the emotions of your day down, giving you space to put them by your side and alleviating that horrible feeling of all your thoughts whirling around your head as you try and rest. As you write be soothed and calmed by the dreamy tones of the award winning sleepy head sleep spray. And then our favourite... for ultimate relaxation, try a face, hand, foot or full body massage using the most luxurious organic body cream - made by you, for you!
Can I add a gift message to this gift?

Absolutely 😊 Enter your very own gift message into the box on this page and we will handwrite it and add it to your gift box!