Make Your Own Skincare Kits
Unleash Totally Natural Skincare!
Our make your own skincare kits only use the finest quality, ethically sourced organic ingredients, so you can create luxurious skincare products without any need for chemical fillers, preservatives or nasties - because we believe that when it comes to skincare, there should be no secrets.
Self care for you, care for the planet.
Regular price
From $27.00 USD
Regular price
Sale price
From $27.00 USD
Unit price
per
Regular price
From $44.00 USD
Regular price
Sale price
From $44.00 USD
Unit price
per
Regular price
From $38.00 USD
Regular price
Sale price
From $38.00 USD
Unit price
per
Why Our Make Your Own Skincare Kits: Your Questions Answered
Why choose 'make your own' skincare?

Inspired by a frustration that even so-called natural skincare has a long list of decipherable and often chemical ingredients, we want to pave the way for change and create an easy and empowering way for you to feel the power of totally natural skincare. Supporting the skin and protecting the environment.
Why do you use organic ingredients in your make your own skincare kits?

We love sharing the power of the soil and creative skincare kind to you and the planet! We choose to source only the highest quality, organic ingredients for our skincare kits. Organic farming practices promote soil health, biodiversity, and protect the environment from harmful chemicals and pollutants. By choosing organic, we are can supporting sustainable farming practices, whilst giving you the purest and most nurturing ingredients for your skincare.
How quick & easy is it to make skincare using your skincare kits?

We know your time is precious which is why we've done all the boring bits of finding the best recipe and sourcing and measuring the finest quality, organic ingredients so you don't have to worry about a thing. With our skincare kits, you can indulge in the most luxurious, eco-friendly skincare in just a matter of minutes!

Picture this: You open your kit, and with a simple pour, mix, and melt, you'll witness the transformation of our carefully curated ingredients into a pampering masterpiece!
Is the packaging in all your skincare kits and gifts plastic free?

Yes 😊 We are very proud and dedicated to make everything, including all tape, completely plastic free.
Are all your make your skincare kits and gifts vegan friendly?

Sustainability and care for the planet is deeply important to us.

All the ingredients in our products are vegan friendly, apart from the decision to use the finest quality, organically sourced beeswax (a decision made that is passionate to support bees and their importance to the eco system).

If you would like a completely vegan product, all products, apart from the body cream kits are suitable.
What are you're delivery details? How soon can I start making my own skincare?!

We offer free 1st class Royal Mail delivery on all UK orders, which typically takes 1-2 working days to arrive. If you would like your order sooner, we also offer a next day delivery option at checkout for £6.95. And if you order before 1pm Monday to Friday, we'll dispatch your order on the same day!

We would love for you to start making your skincare as soon as possible. If you have any questions or queries about delivery, please get in touch with us, we would love to help!
I've never used your skincare kits before, do you offer a discount for my first purchase?

Yes 😊 Sign up to our newsletter and receive 10% off your first order.
Why did you start making your 'make your own skincare kits'?

Grown from a love of the soil and the power and nurturing energy of our precious enviroment together with a frustration that even so called natural skincare products have long lists of unreadable and unnatural ingredients, Fruits of the Nut Tree grew.

We are so passionate to share the nurturing and amazing qualities of skincare made purely by organic, 100% natural plant power, giving you the experience of knowing exactly what is in your skincare and feeling the luxurious difference.

We also know your time is precious and so with our skincare kits you get to - in minutes using pre-measured finest quality sourced ingredients and quick and simply instructions - make amazing skincare! It's not just a product, it's an experience - one we would love to share with you!

Want to know more? Check out our get to know us page 😊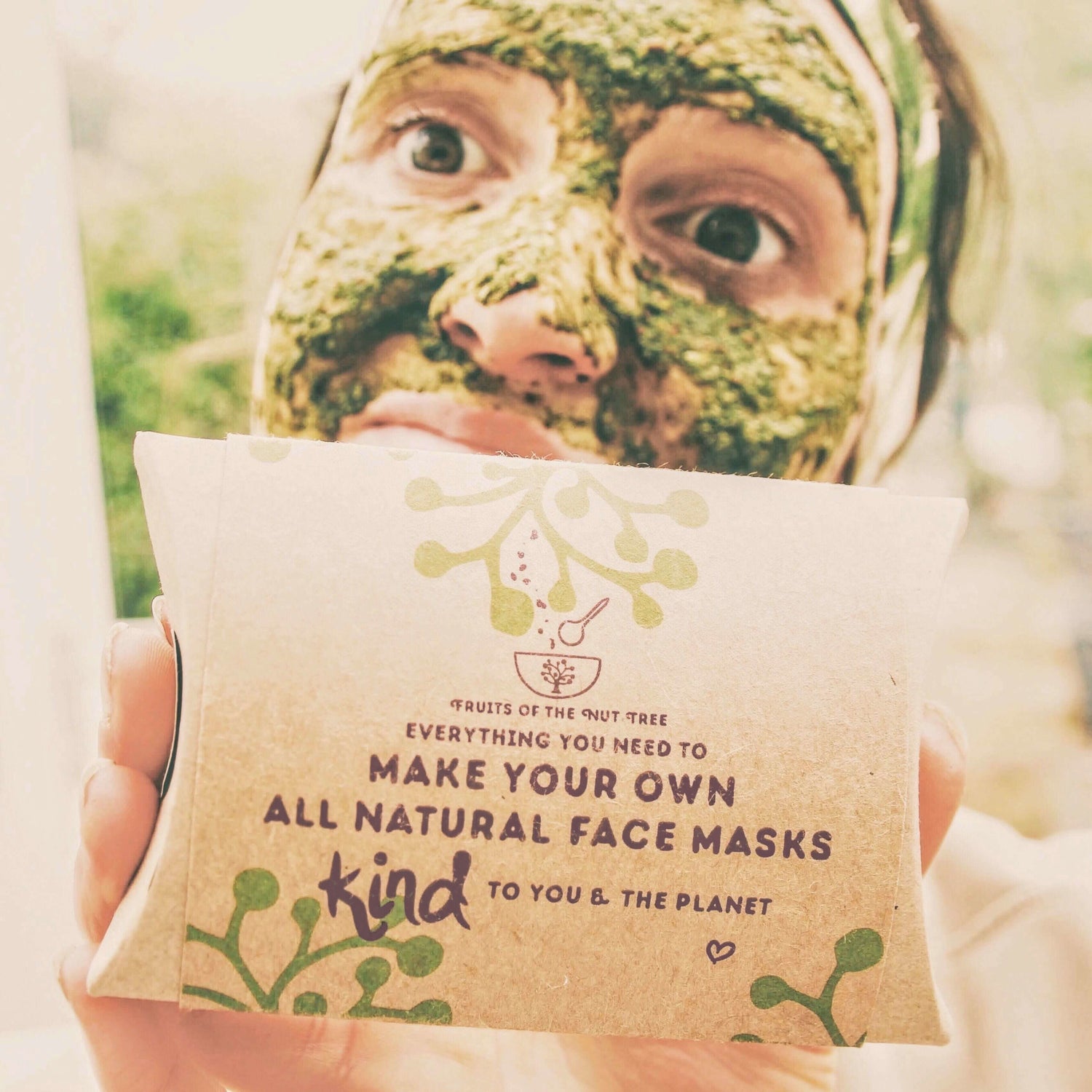 It's time to treat yourself!
Imagine sitting back with the soothing superpowers of organic linseed and organic matcha tea..
Create your own luxurious face masks with our DIY kit! The perfect way to relax, unwind and pamper yourself.
Create Skincare Fast
Feel amazing about every ingredient you put on your skin
We are passionate about the power of nature and believe that the best ingredients for your skin are those that come straight from the earth. That's why we make a range of organic, vegan skincare kits that allow you to unleash the full potential of nature on your skin. Each kit is carefully crafted with the highest-quality, ethically sourced, organic ingredients, so you can create your own luxurious skincare products that are free from parabens, fillers, and chemical preservatives. Our easy-to-follow, quick instructions will guide you through the process, making it easy and fun to create your own skincare in minutes. Whether you're treating yourself to some well-deserved self-care or looking for the perfect gift for a loved one, our make your own skincare kits are sure to delight and inspire.
Choosing a selection results in a full page refresh.
Opens in a new window.