Regular price
Sale price
$34.00 USD
Unit price
per
Sale
Sold out
Organic & Vegan

Skincare with no sneaky secrets

Free & Fast Delivery
Imagine how pampered you'll feel when you're skincare is made from ingredients so pure, they could be eaten.
With pre-measured ingredients and a few quick & easy steps make seriously luxurious, organic, vegan, sustainable, eco-friendly skincare... 3 face masks and a body scrub!
Details

Open your skincare kit to find:

Organic, vegan, finest quality ingredients (packaged plastic free) to make: 

A trio of luxurious cacao, matcha tea and camu camu face masks: organic ground linseed, organic raw cacao powder, organic ceremonial grade matcha tea powder and organic raw camu camu powder. 
An indulgent coffee & cacao body scrub: organic raw cocoa butter, organic raw extra virgin coconut oil, organic coffee, organic raw cacao powder and organic coconut sugar.

Quick & easy steps guiding you to make your plant-powered skincare. Pour, melt, mix - & pamper!

Information on the amazing plants from which each ingredient originates.

Whether you are looking for a eco-friendly, sustainable skincare swap or want a seriously pampering gift for an eco-warrior loved one this make your own skincare kit is made for you! You get to put into your skin what you want, pure ingredients that make a real difference.

Skincare kit ingredients quantities:

Face mask kit: 3 x 3g organic ground linseed, 2g organic, raw cacao powder, 2g organic, ceremonial grade matcha tea powder, 2g organic camu camu powder. 

(Ingredients to make 3 face masks, 1 cacao & linseed face mask and 1 matcha tea & linseed face mask and 1 camu camu & linseed face mask).
Body scrub kit: 18g organic, raw cocoa butter, 18g organic, extra virgin coconut oil, 6g organic, raw cacao powder, 6g organic ground coffee, 30g organic coconut sugar (measured for 6 body scrub applications).

Plastic free packaging (skincare made zero waste!)

Letterbox friendly (box dimensions: 23cm x 16.5cm x 2.5cm).
Delivery

FREE 1st class Royal Mail delivery on all UK orders.
Next day delivery (Royal Mail guaranteed) is also available at the checkout (£6.95).
Same day dispatch if ordered before 1pm (Monday - Friday).
Our products through our customers' eyes

"Super luxurious, a wonderful economy friendly treat."

"Excellent product. Have used it myself and also bought them as gifts"

"Fab service, great product and fast delivery 😊"
View full details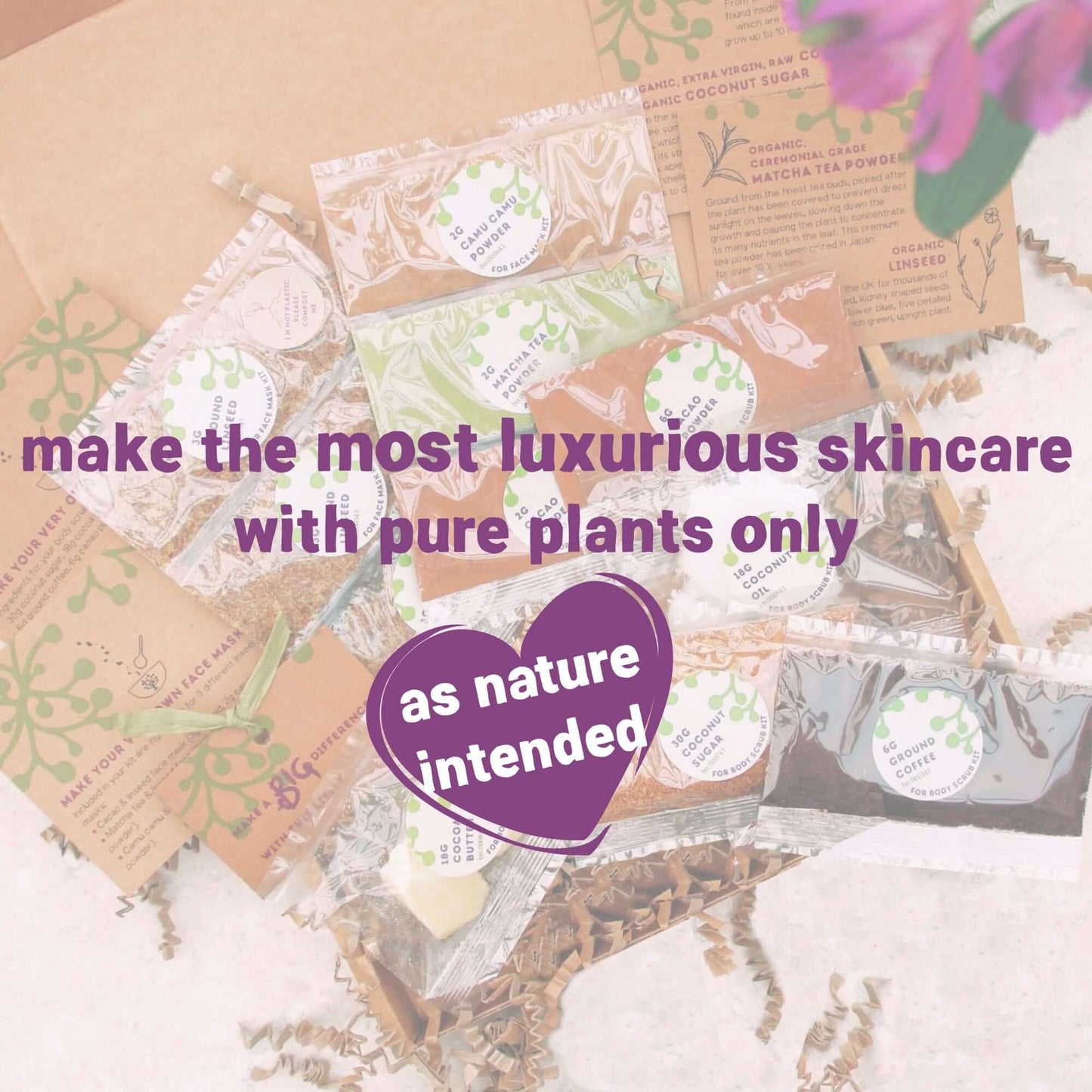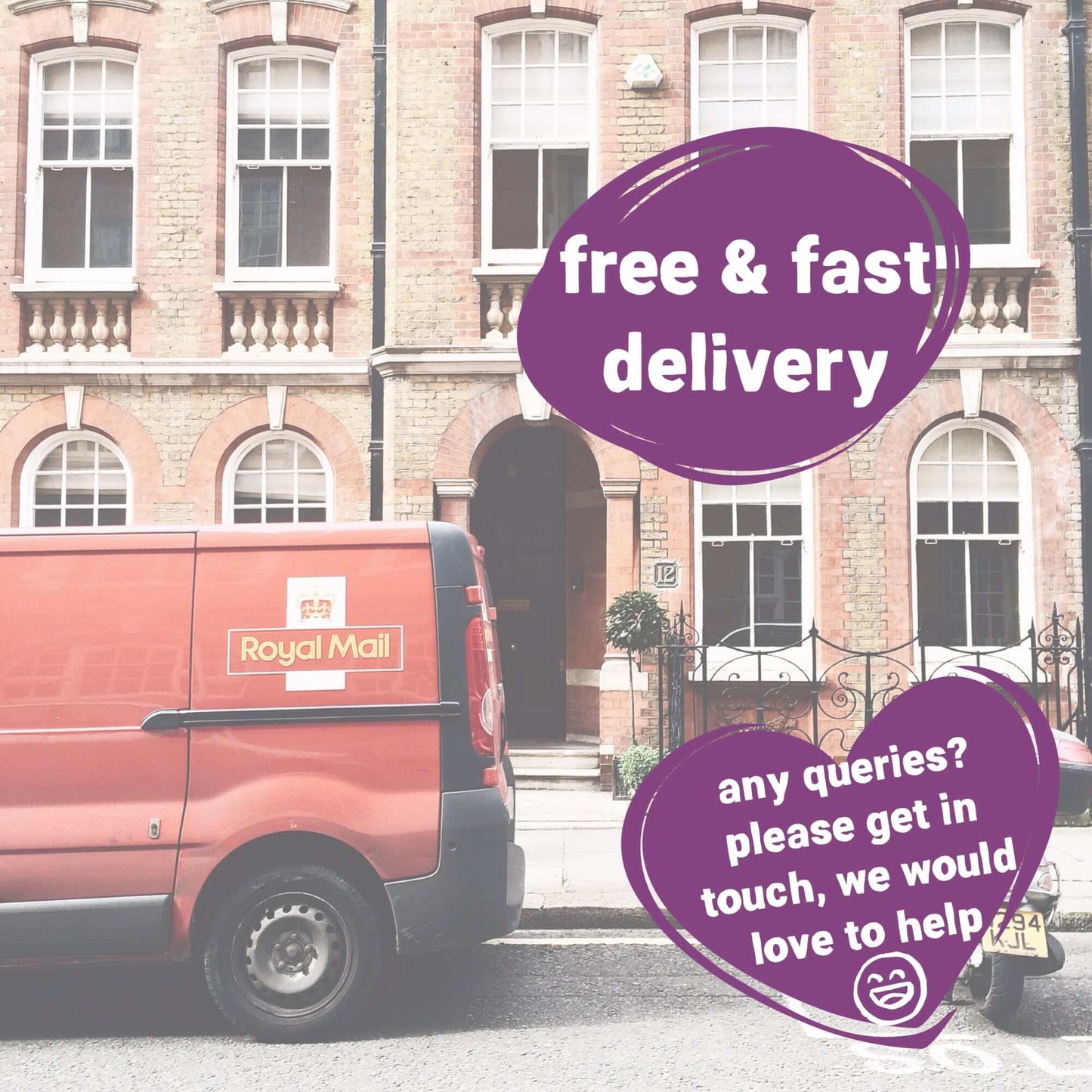 Make Your Own Skincare Kit: Your Questions Answered
I've never made my own skincare products before. Is this kit suitable for beginners?

Absolutely! Our make your own skincare kits are designed with everyone in mind. With pre-measured ingredients and simple instructions, it's quick & easy to create luxurious and eco-friendly skincare products in the comfort of your own home.
Are the ingredients in your skincare kits suitable for sensitive skin?

We only use all natural, organic ingredients in our skincare kits which are gentle on the skin and suitable for most skin types. However, we always recommend doing a patch test before using any new skincare product, especially if you have particularly sensitive skin.
Why did you choose to use organic ingredients in your make your own skincare kit?

Always choosing organic is something that is very important to us. We hate the idea of chemicals contaminating your ingredients and the soil where they have grown. By choosing organic we can promote soil health, biodiversity, and protect the environment from harmful chemicals and pollutants, all whilst importantly giving you the purest and most powerful and nurturing ingredients for your skincare.
How long will it take to receive my skincare kit after placing my order?

We offer free 1st class Royal Mail delivery on all UK orders, which typically takes 1-2 working days to arrive. If you require your order sooner, we also offer a next day delivery option at checkout for £6.95. Please note that orders placed after 1pm will be dispatched the following working day, and we do not dispatch orders on weekends or bank holidays. We will always do our best to get your order to you as quickly as possible!
What makes this skincare kit eco-friendly?

By making your own skincare you get to eliminate the unnatural long list of chemicals found in pre-made skincare and instead use only the finest quality organic ingredients - the skin, soil and ocean will love it! Plus, our plastic-free packaging means your skincare is completely zero waste!
Why choose make your own skincare?

We are so passionate to share the nurturing and amazing qualities of skincare made purely by organic, 100% natural plant power, giving you the experience of knowing exactly what is in your skincare and feeling the luxurious difference.

We also know your time is precious and so with our skincare kits you get to - in minutes using pre-measured finest quality sourced ingredients and quick and simply instructions - make amazing skincare! It's not just a product, it's an experience - one we would love to share with you!