Regular price
Sale price
$44.00 USD
Unit price
per
Sale
Sold out
Organic & Sustainable

Skincare With No Sneaky Secrets

Free & Fast Delivery
Want a moisturiser that's totally natural and organic, without any of those unpronounceable chemicals? Say goodbye to the frustration of trying to decode the long list of unfamiliar ingredients found in shop-bought body creams and say hello to our make your own body cream kit!
Details

Open your body cream kit to find:

Premium quality, organic ingredients: organic golden jojoba oil, organic unrefined shea butter, organic raw extra virgin coconut oil and organic beeswax granules.

Quick & easy steps to make your body cream. Pour, melt, mix - & moisturise!

Information on the origin of each ingredient.

A coloured glass jar to keep your body cream at its best.

~ ~ ~ ~ ~ ~ ~ ~ ~ ~ ~

Treat yourself and feel the nurturing power of eco-friendly, sustainable, spa-quality skincare. Or if you're looking for a unique gift for an eco-conscious friend, this super luxurious, completely plastic free, organic gift is sure to bring a smile.

To make it ready for someone special select gift wrapping and it will come carefully wrapped in Fruits of the Nut Tree hand printed kraft paper, tied with cotton twine and finished with a matching Fruits of the Nut Tree tag, left blank or with a hand written message of your choice.

~ ~ ~ ~ ~ ~ ~ ~ ~ ~ ~

Body cream kit ingredient quantities: 25g organic, unrefined shea butter, 25g organic, extra virgin coconut oil, 50ml organic, cold pressed jojoba oil, 12.5g organic beeswax (measured to make 120ml of cream).

Choose plastic free skincare! All packaging is home compostable - the ingredients sachets look like plastic but are amazing wood pulp film! Organic eco-friendly skincare.. kind to your skin and kind to the planet too!

Body cream kit box dimensions: 13cm x 11cm x 8.5cm.

You can make your own amazing body cream in minutes! No more purchasing expensive, chemical-laden shop bought creams. Imagine how luxurious you'll feel when your skin is pampered with a 100% natural, organic moisturiser, made by you!
Delivery

FREE 1st class Royal Mail delivery on all UK orders.
Next day delivery (Royal Mail guaranteed) is also available at the checkout (£6.95).
Same day dispatch if ordered before 1pm (Monday - Friday).
Our products through our customers' eyes

"Amazing cream! Really easy to make and felt lovely knowing what was in it - it made me think of Deborah Meaden saying about only putting on your skin what's good enough to eat! I have quite sensitive skin but I had no problems with this at all. I tried it on my broken skin due to athletes foot and after two days it was healed, I couldn't believe it."

"Bought this as a gift, I was told it was a brilliant buy and left their skin feeling divine!"

"Fab service, great product and fast delivery 😊"
View full details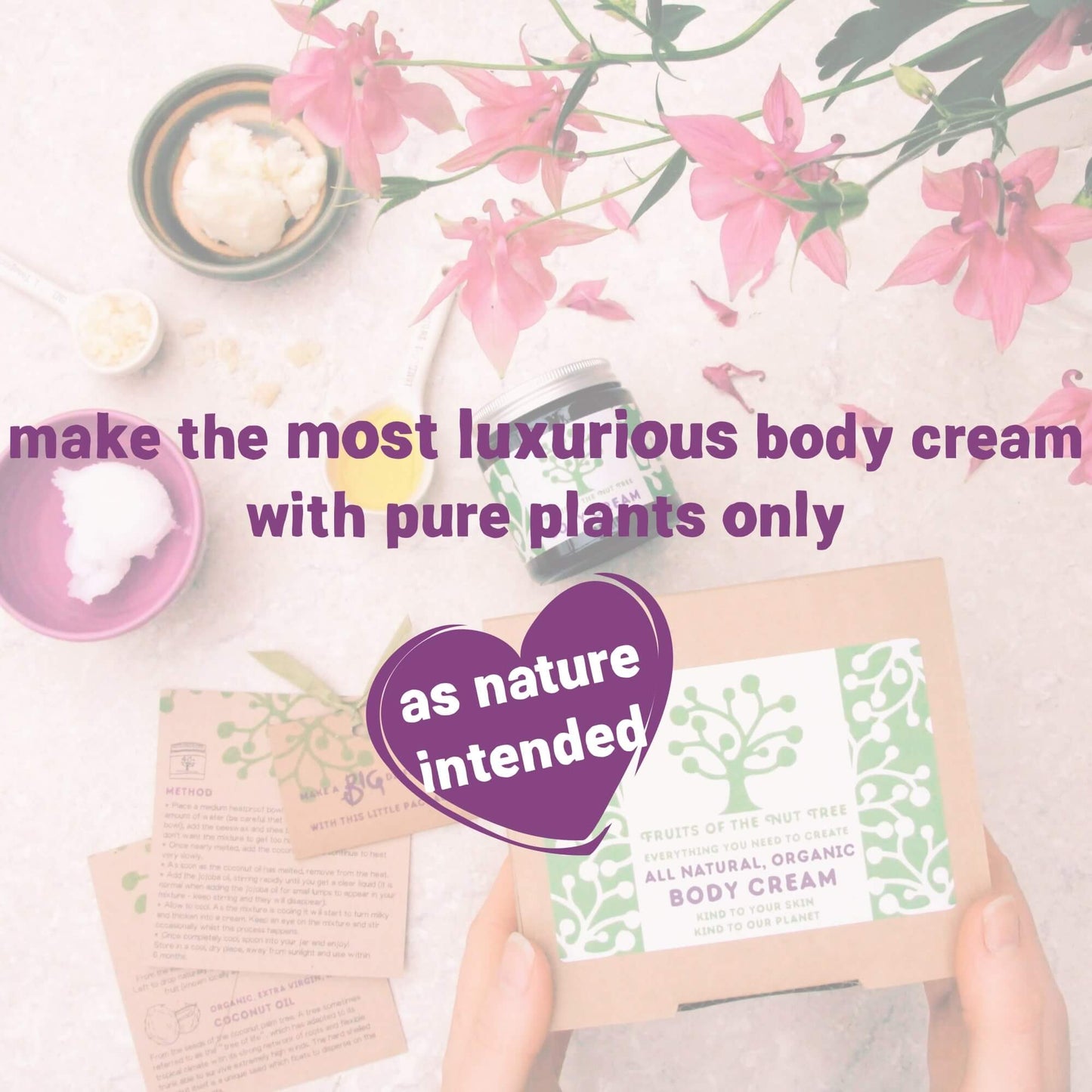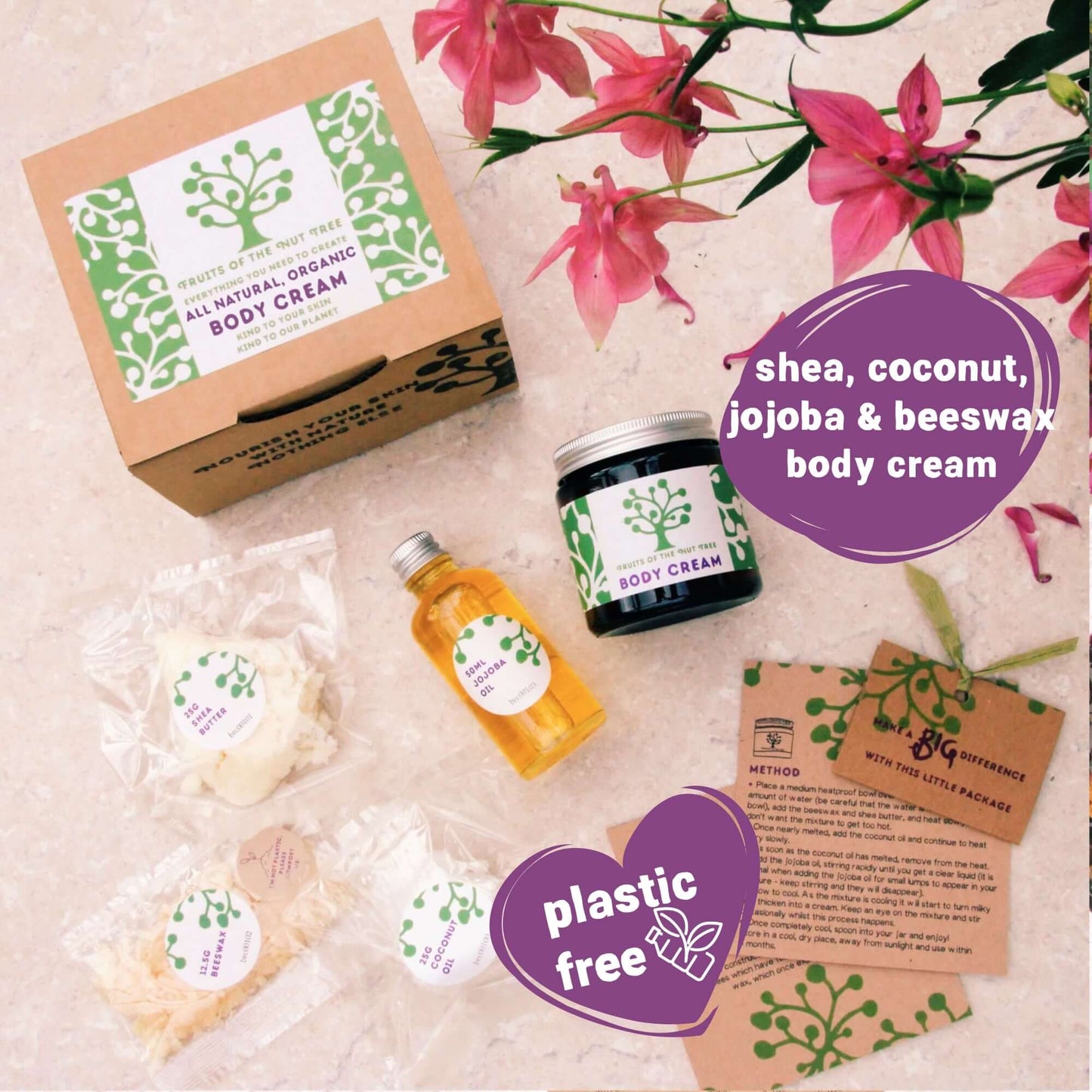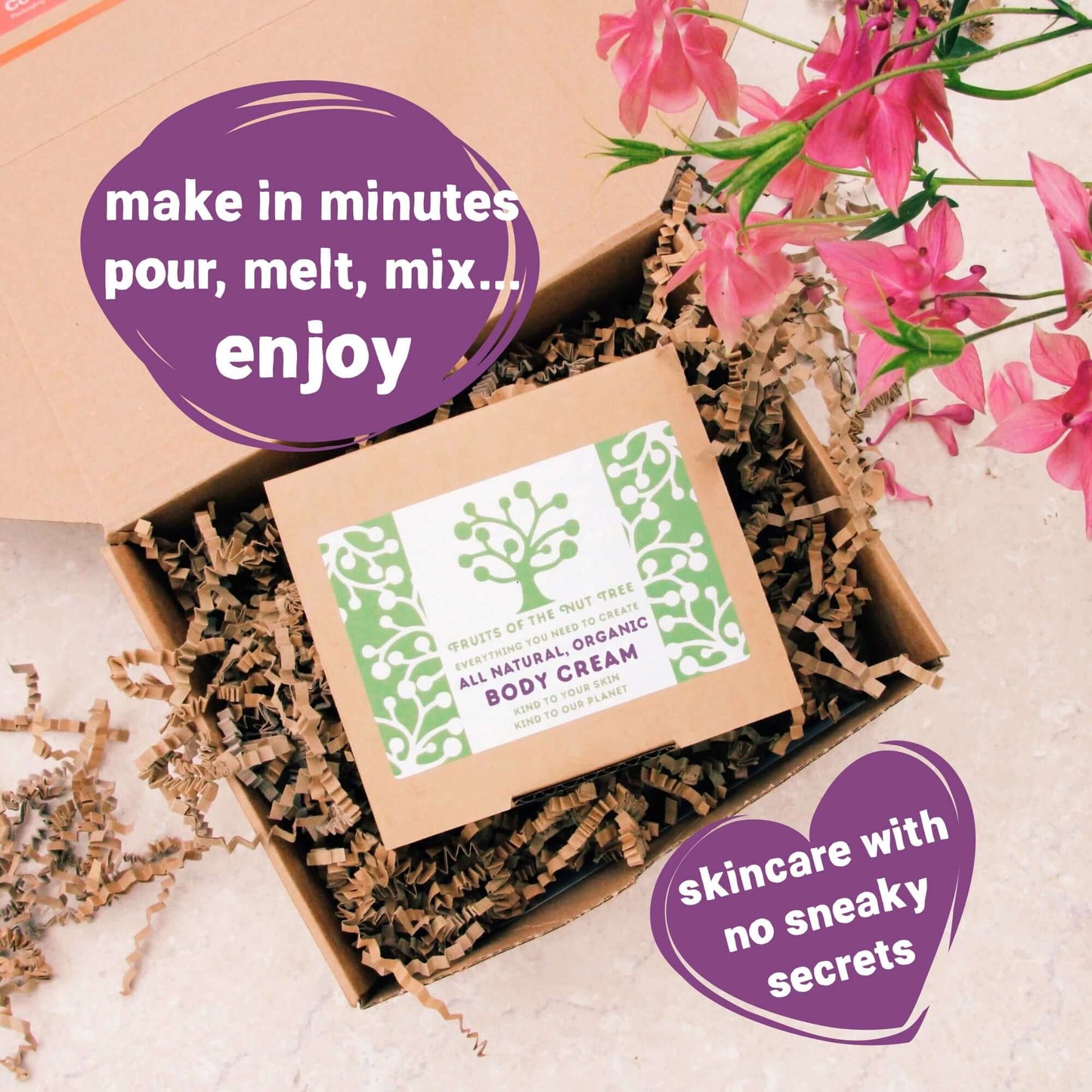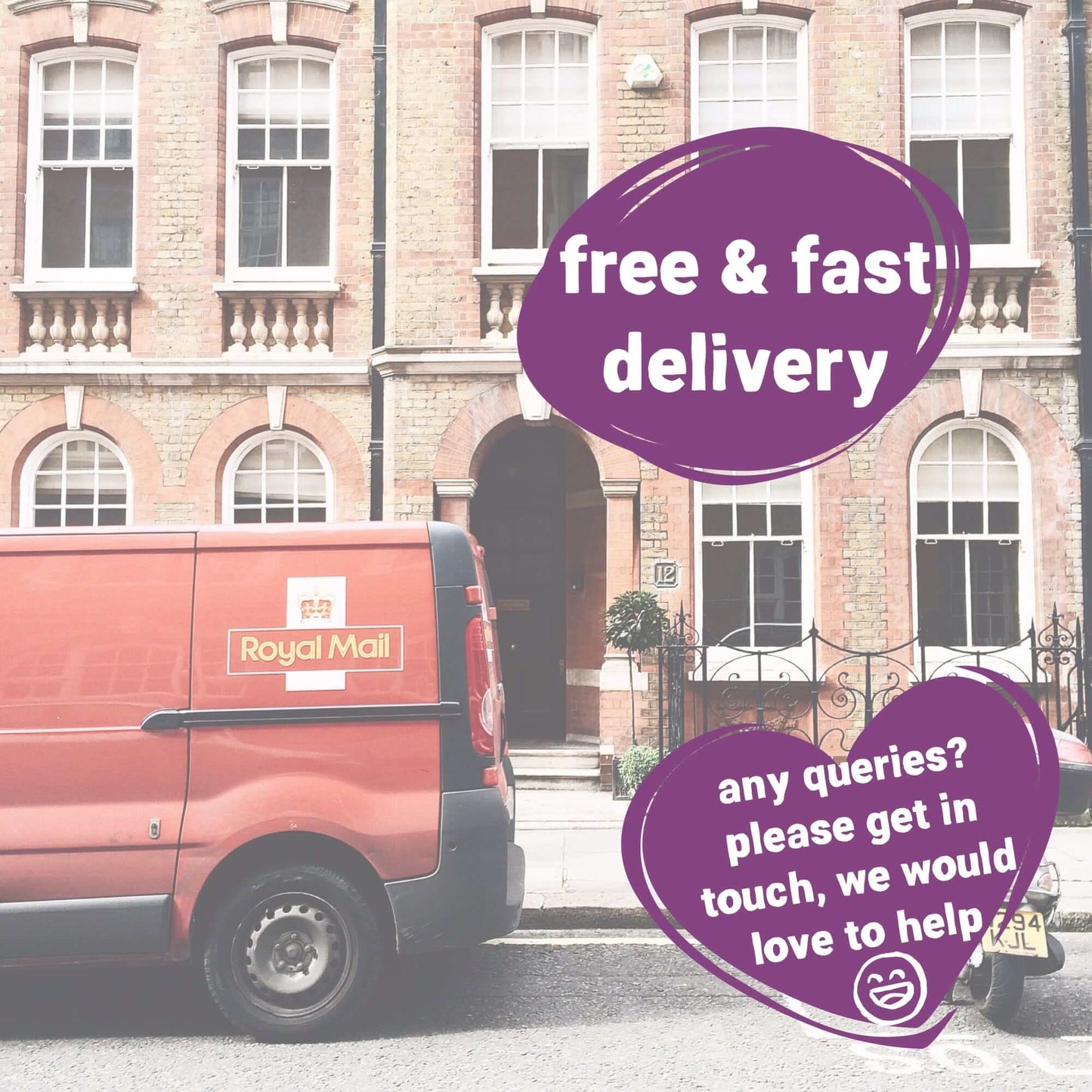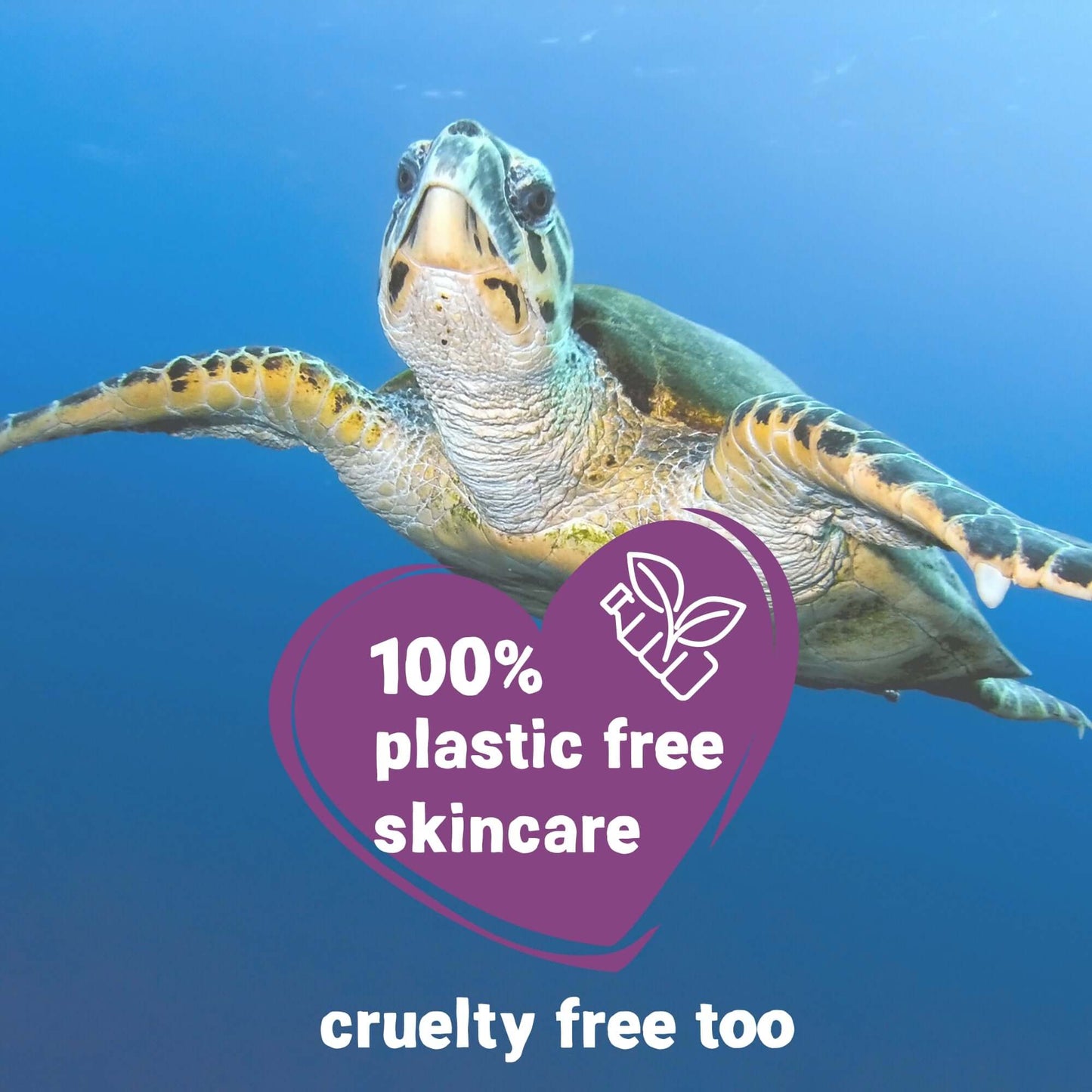 Make Your Own Body Cream Kit: Your Questions Answered
Why should I choose this make your own body cream kit over pre-made moisturiser?

Making your own body cream allows you to know exactly what ingredients are going onto your skin, avoiding harsh & unnecessary chemicals and preservatives that pre-made moisturiser often contain. Plus, you get the satisfaction of creating your own luxurious, eco-friendly cream in minutes!
What makes making you own body cream so special?

Indulge in a little self-care and give your skin the love it deserves with our make your own body cream kit! We want you to be able to relax with the peace of mind knowing that you're not putting any harsh chemicals or unnatural additives on your skin and enjoy the satisfaction and nourishment that comes with creating your very own cream in just a few minutes.
I've never made my own skincare products before. Is this kit suitable for beginners?

Absolutely! Our make your own skincare kits are designed with everyone in mind. With pre-measured ingredients and simple instructions, it's quick & easy to create luxurious and eco-friendly skincare products in the comfort of your own home.
What are the delivery options for this make your own body cream kit?

We offer free 1st class Royal Mail delivery on all UK orders, which typically takes 1-2 working days to arrive. If you would like your order sooner, we also offer a next day delivery option at checkout for £6.95. And if you order before 1pm Monday to Friday, we'll dispatch your order on the same day!

If you have any questions or queries about delivery, please get in touch with us, we would love to help.
Is this make your own body cream kit eco-friendly?

Supporting our precious planet, together with you, is at the core of our business. By making your own skincare you navigate the long list of sneaky ingredients found in pre-made skincare so you can relax knowing exactly what you are putting on your skin - only the finest quality, organic ingredients. Our kits are also 100% plastic free so you can choose plastic free skincare - kind to the skin, soil & ocean!
Can you tell me more about the ingredients chosen for this body cream kit?

We would love to! We love getting to share skincare with complete transparency and sharing these organic, seriously luxurious ingredients!

Coconut oil - From the seeds of a tree sometimes referred to as the 'tree of life', this amazing oil is naturally antibacterial, antifungal and intensely moisturising and nourishing. It is mainly composed of saturated fats, which are amazing at repairing your skin's natural barrier function.
Shea butter - From the kernels, inside the nut of the green skinned shea fruit.  Left to drop naturally from the african shea tree, which can bear fruit (known locally as "green gold") for up to 200 years. It is deeply moisturising and highly rich in Vitamin A & E.
Jojoba oil - From the seeds of the jojoba desert shrub, a hardy shrub that has adapted to tolerate the extreme heat and sunlight of the desert whilst needing little water due to deep roots and the waxy coating of the leaves.  It is very high in proteins, vitamins and mineral salts and particularly rich in vitamin E.
Beeswax - The construction material of bee hives! Made by young honeybees which have four special glands that excrete liquid wax, which once exposed to air, begins to harden. It is a natural preservative and emulsifier. It has very high levels of fatty acids, high in vitamin A and is great at not clogging pores and letting the skin breathe.
Why did you choose organic ingredients for your skincare kits?

Always choosing organic is something that is very important to us at Fruits of the Nut Tree. We hate the idea of chemicals contaminating your ingredients and the soil where they have grown. By choosing organic we can promote soil health, biodiversity, and protect the environment from harmful chemicals and pollutants, all whilst importantly giving you the purest and most powerful and nurturing ingredients for your skincare.