Regular price
Sale price
$15.00 USD
Unit price
per
Sale
Sold out
Organic & Vegan

Skincare With No Sneaky Secrets

Free & Fast Delivery
Want an all natural, vegan face mask... for ultimate self care? With the perfect balance of moisturising coconut oil, antioxidant-rich cacao powder, nutrient-dense maca, and deeply cleansing bentonite clay this eco-friendly face mask alternative is guaranteed to leave you feeling relaxed and nourished by nature.
Details

Open your face mask kit to find:

Organic, vegan, finest quality ingredients to make two of your very own face masks: organic raw cacao powder, organic maca powder, organic raw extra virgin coconut oil and bentonite clay.

A few quick & easy steps to make your face masks. Pour, mix - & pamper!

Information on the amazing plants from which each ingredient originates.

 

*Can be personalised with a handwritten gift message.

~ ~ ~ ~ ~ ~ ~ ~ ~ ~ ~ ~ ~ ~ ~ ~

Whether you're searching for natural, vegan skincare, wanting to switch to eco alternatives, would like your skincare to be completely free from manufactured chemicals, or you're looking for products kinder to your sensitive skin this face mask kit is made especially for you.

~ ~ ~ ~ ~ ~ ~ ~ ~ ~ ~ ~ ~ ~ ~ ~

Face mask kit ingredient quantities: 3.5g organic extra virgin coconut oil, 2g bentonite clay, 2g organic, raw maca powder, 2g organic, raw cacao powder.

Choose plastic free skincare! All packaging is home compostable - the ingredients sachets look like plastic but are amazing wood pulp film! An all natural vegan face mask kit... kind to your skin and kind to the planet too!

Face mask kit box dimensions: 16.5cm x 14cm x 2.5cm.

Create a spa-like experience with this luxurious clay & cacao face mask kit!
Delivery

FREE 1st class Royal Mail delivery on all UK orders.
Next day delivery (Royal Mail guaranteed) is also available at the checkout (£6.95).
Same day dispatch if ordered before 1pm (Monday - Friday).
Our products through our customers' eyes

"Such good quality products and my friend has only raved about the face masks! I would recommend to anyone!"

"Bought this as a gift, I was told it was a brilliant buy and left their skin feeling divine!"

"Excellent product. Have used it myself and also bought them as gifts"
View full details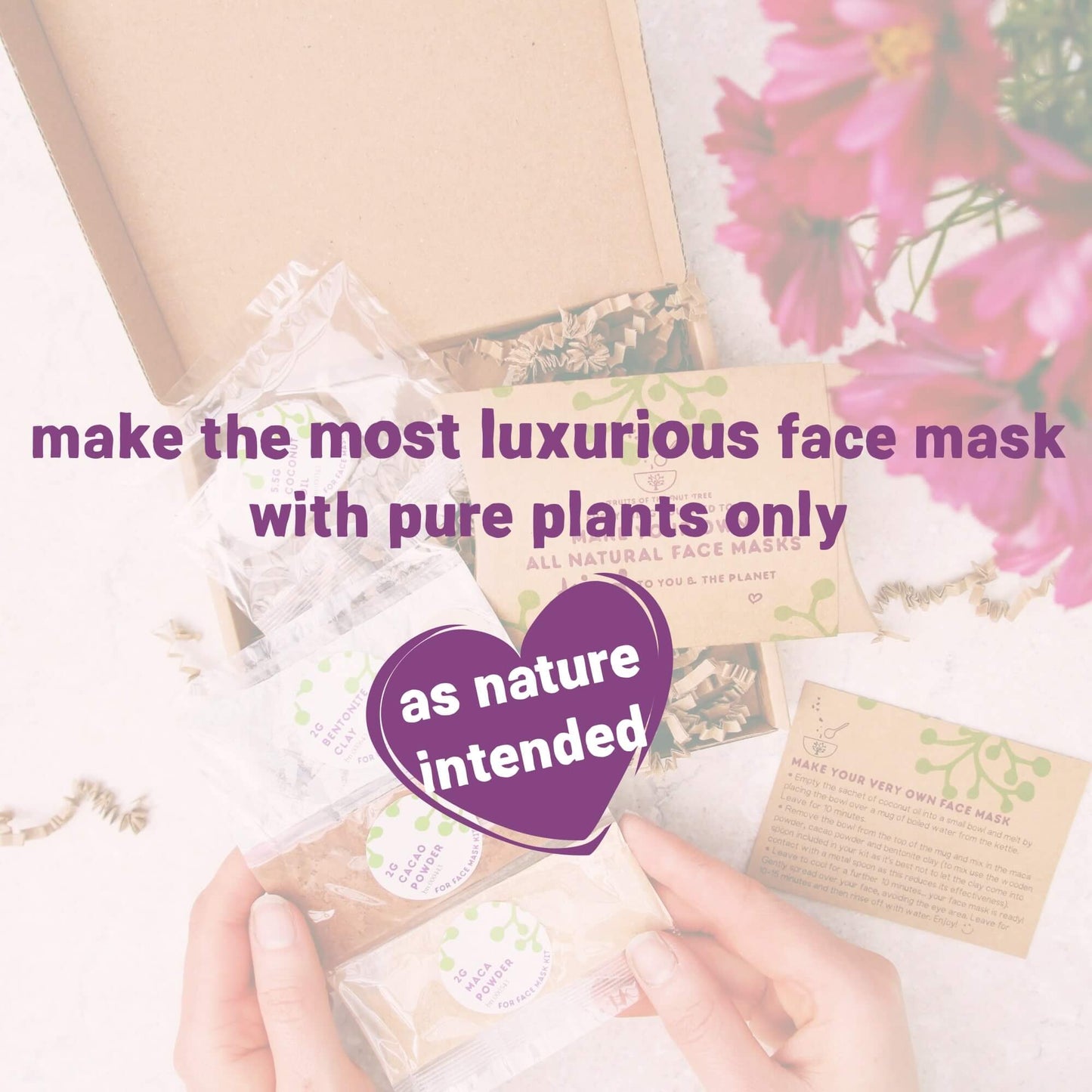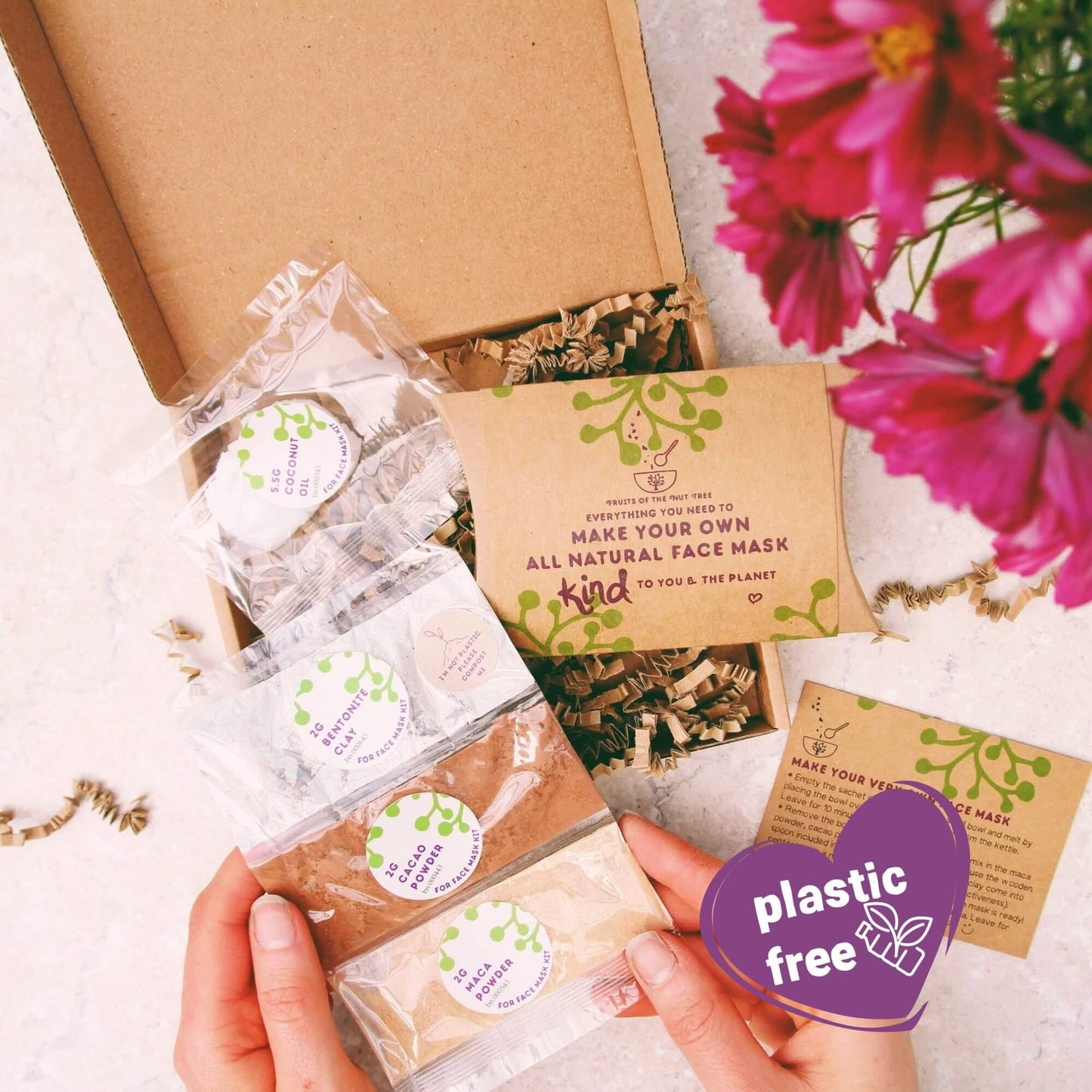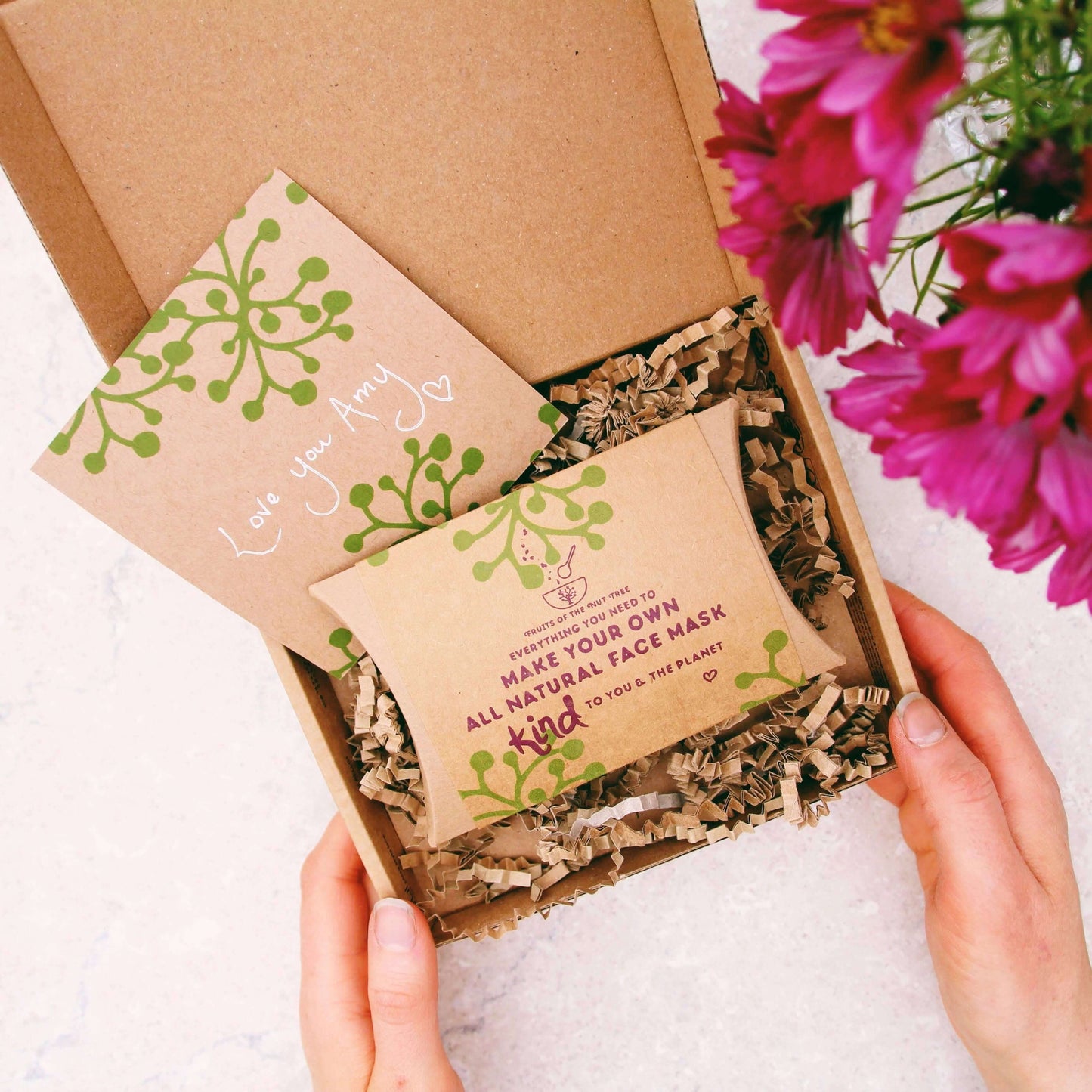 Make Your Own Face Mask Kit: Your Questions Answered
What are the delivery options for this face mask kit?

We offer free 1st class Royal Mail delivery on all UK orders, which typically takes 1-2 working days to arrive. If you would like your gift sooner, we also offer a next day delivery option at checkout for £6.95. And if you order before 1pm Monday to Friday, we'll dispatch your order on the same day!

We're dedicated to ensuring that your gift reaches its destination swiftly, and we know that it matters that your loved ones can get your birthday gift surprise and be pampering with the power of plants without delay. If you have any questions or queries about delivery, please get in touch with us, we would love to help.
What makes this face mask kit so much better than pre-made face masks?

This face mask kit is carefully designed to give you the most luxurious, all natural face mask kit possible. Making your own face mask also allows you to know exactly what ingredients are going onto your skin, avoiding harsh & unnecessary chemicals and preservatives that pre-made face masks often contain. In minutes, bring the spa to your sofa and create your own a face mask guaranteed to bring a smile. 😊
What makes this face mask kit different to other face mask kits you can buy?

Our face mask kit is like no other because we believe in using only the best organic, vegan, and finest quality ingredients for your skin. We are also committed to using only plastic free packaging and supporting both you and the plant.

With our unbeatable combination of quality, sustainability, fast delivery and customer care, we're confident that you'll fall in love with our face mask kit just as much as we have!
What are the ingredients of this face mask kit?

We would love to! We love getting to share skincare with complete transparency and sharing these organic, plant-powered seriously luxurious ingredients!

Coconut oil - From the seeds of a tree sometimes referred to as the 'tree of life', this amazing oil is naturally antibacterial, antifungal and intensely moisturising and nourishing. It is mainly composed of saturated fats, which are amazing at repairing your skin's natural barrier function.
Cacao powder - Ground from the beans inside the pod-like fruits of the cacao tree, this deliciously smelling powder is one of the highest sources of antioxidants on the planet, protecting and repairing the skin by absorbing free radicals that come from pollution and toxins in our environment. There's also magnesium, an anti-inflammatory that can help calm redness and omega-6 fatty acids hydrating your skin! And don't forget it smells like chocolate!
Maca powder - The powder of a maca plant root, similar in looks to a radish or turnip but grown in extreme condition at very high altitudes in the Peruvian Andes - above 4000 meters! This powerhouse of a root is incredibly rich in essential minerals, fatty acids and amino acids, strengthening, nourishing and protecting the skin.
Bentonite clay - Formed from ancient volcanic ash that was once exposed to seawater, at which point it absorbed an amazing blend of natural minerals. This mineral rich powder has deeply cleansing and detoxifying properties.
Can I add a gift message to this face mask kit?

Yes 😊 Add your gift message using the box near the top of this page and we will hand write it and include it inside your gift.
I am vegan, is this face mask kit suitable?

Yes 😊 All the ingredients in this face mask kit are 100% vegan-friendly.
I am very interested in sustainability, what makes this face mask kit eco-friendly?

We are dedicated to share a quick and easy way to navigate the long list of chemical and unnatural ingredients found in pre-made skincare. By using our kits, you can choose to use only natural, organic ingredients, packaged using zero-waste, plastic free materials. We love this face mask kit because it's not only luxurious and pampering but are also kind to the environment.
How is this face mask kit different to others you sell?

This face mask kit is our best selling clay, cacao, maca and coconut oil recipe. This option includes a single portioned face mask kit. Want to quadruple the pampering? Check out our 4 face mask kit box version 😊

We also have a linseed, clay and matcha face mask kit, for the perfect blend of finest quality organic ceremonial grade matcha tea powder or organic raw cacao powder matched with organic ground linseed!