Regular price
Sale price
$29.00 USD
Unit price
per
Sale
Sold out
Organic & Vegan

Skincare With No Sneaky Secrets

Free & Fast Delivery
It's quick & easy to make your own body scrub with our organic vegan seriously luxurious make your own body scrub kit. Lose the chemicals and make your own in minutes!
Details

Open your body scrub kit to find:

Organic, vegan, finest quality ingredients to make your own body scrub: organic raw cocoa butter, organic raw extra virgin coconut oil, organic coffee, organic raw cacao powder and organic coconut sugar.

A few quick & easy steps to make your body scrub. Pour, melt, mix - & pamper!

Information on the amazing plants from which each ingredient originates.

 

Gift or treat yourself this luxuriously pampering, chocolatey body scrub making kit! With organic, vegan, finest quality, pre-measured ingredients... feel the amazing superpowers of antioxidant rich cacao powder & cocoa butter, intensely moisturising coconut oil and naturally exfolianting & nourishing coconut sugar & coffee!

Make it ready for someone special and select gift wrapping and it will come carefully wrapped in Fruits of the Nut Tree hand printed kraft paper, tied with cotton twine and finished with a matching Fruits of the Nut Tree tag, left blank or with a hand written message of your choice. Luxury yet fully compostable!

Body scrub kit ingredient quantities: 18g organic, raw cocoa butter, 18g organic, extra virgin coconut oil, 6g organic, raw cacao powder, 6g organic ground coffee, 30g organic coconut sugar (measured for 6 body scrub applications). 

Choose plastic free skincare! All packaging is home compostable - the ingredients sachets look like plastic but are amazing wood pulp film! Eco-friendly organic body scrub... kind to your skin and kind to the planet too!

Body scrub kit box dimensions: 11cm x 9.5cm x 6.5cm.

Create a spa-like experience with this luxurious all-natural body scrub kit - find everything you need to make your skin soft, smooth and smelling incredible!
Delivery

FREE 1st class Royal Mail delivery on all UK orders.
Next day delivery (Royal Mail guaranteed) is also available at the checkout (£6.95).
Same day dispatch if ordered before 1pm (Monday - Friday).
Our products through our customers' eyes

"So happy with this. Its perfect and exactly as described."

"Fab service, great product and fast delivery 😊"

"I gave this to my friend as a birthday present. she absolutely loved it. I was so impressed with the speedy delivery! highly recommend!"
View full details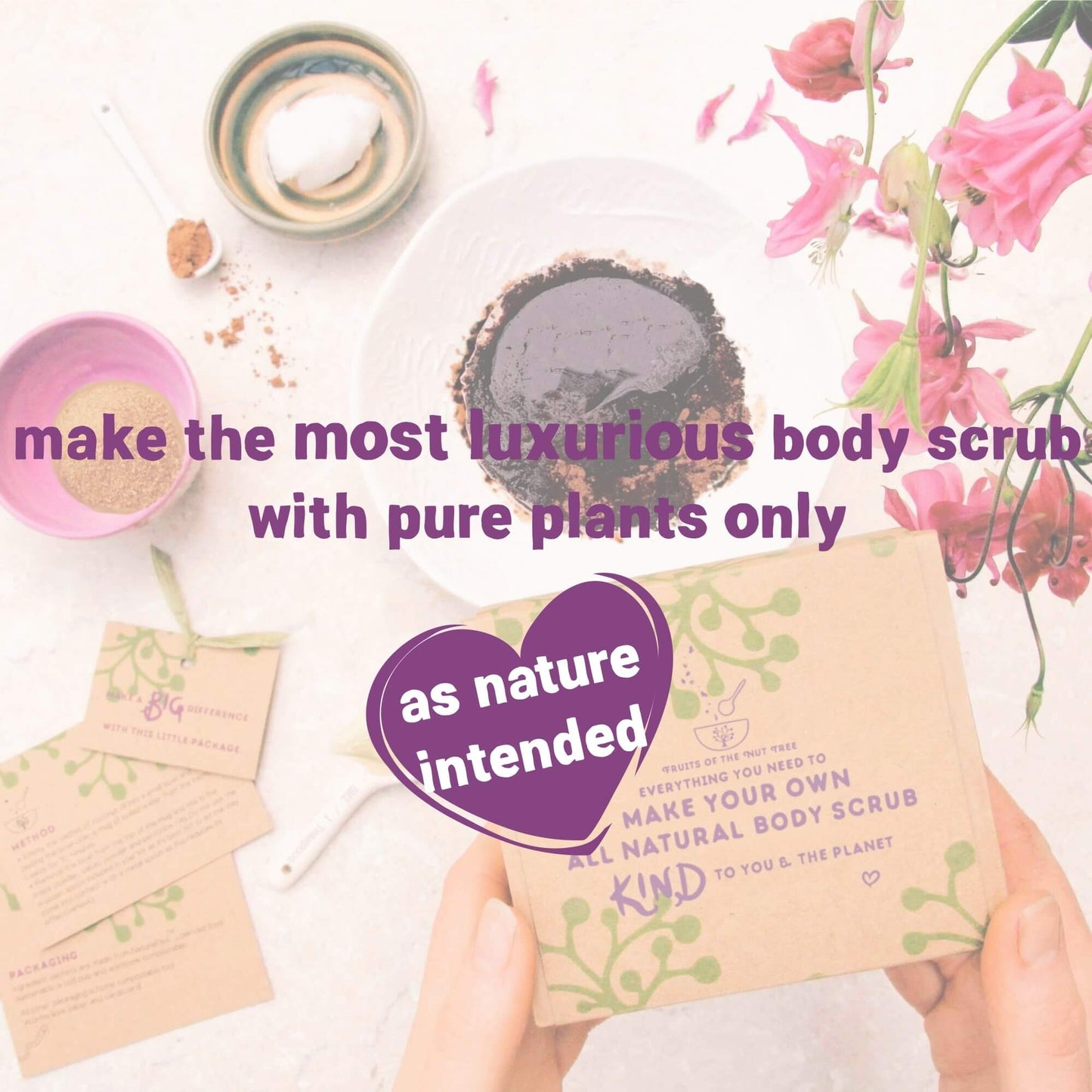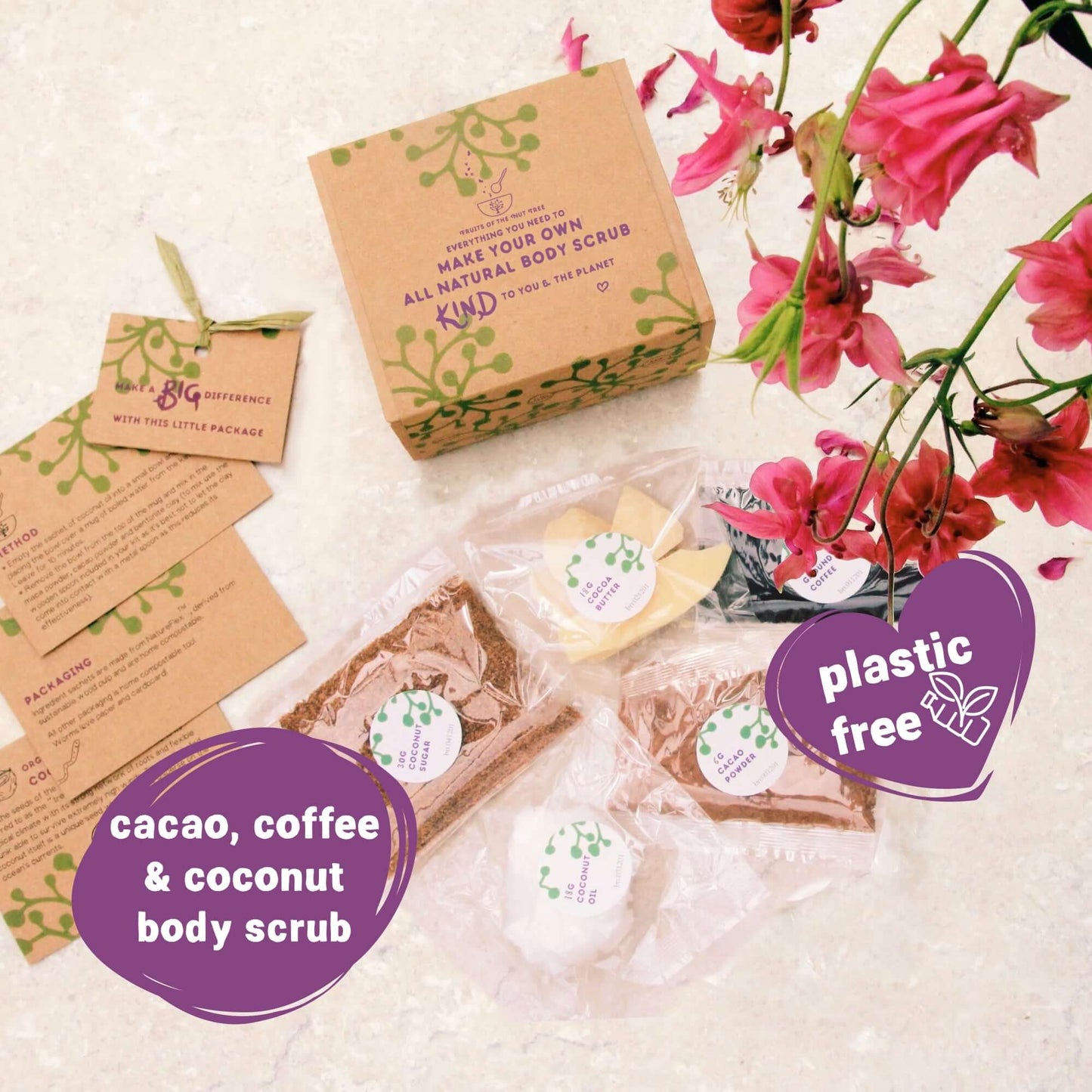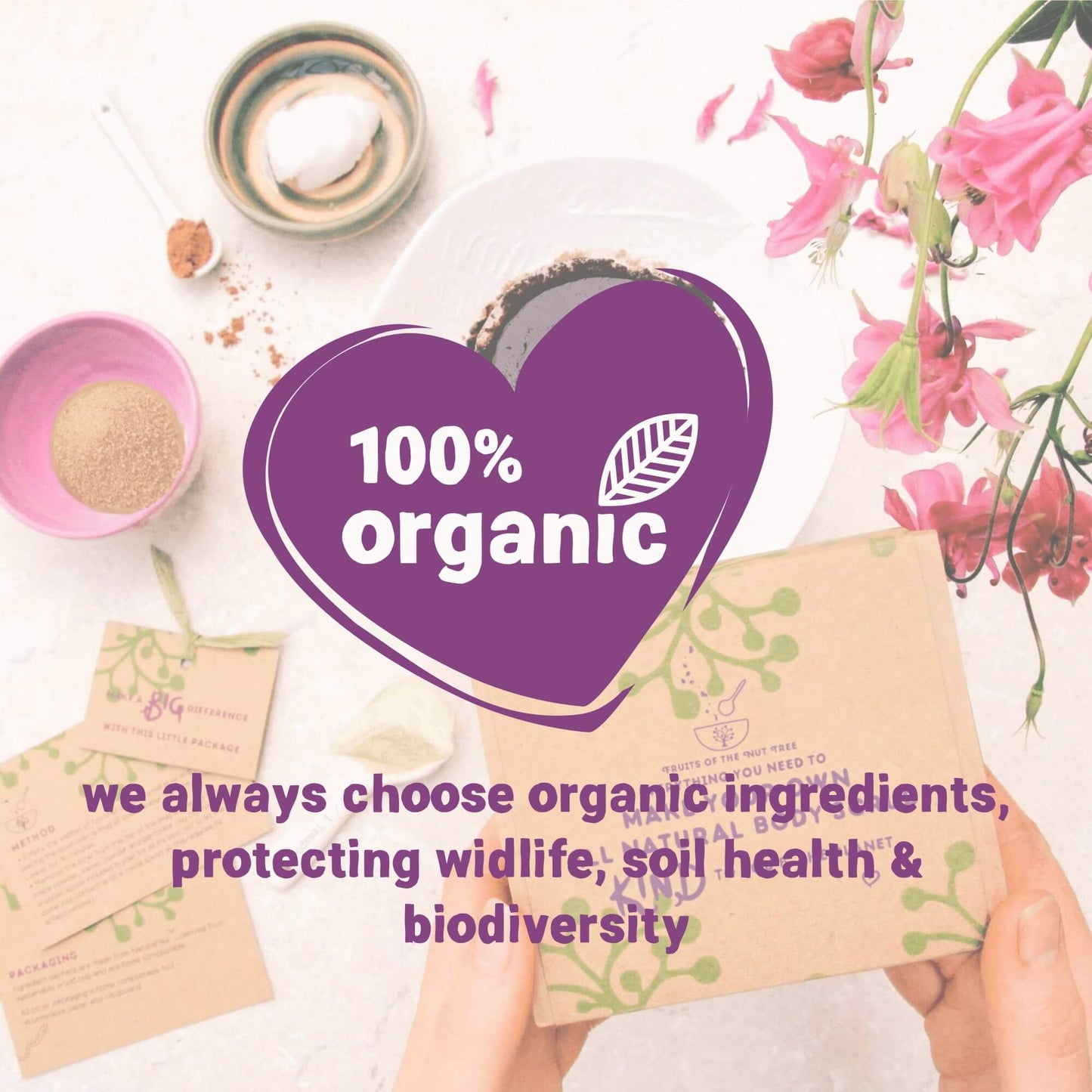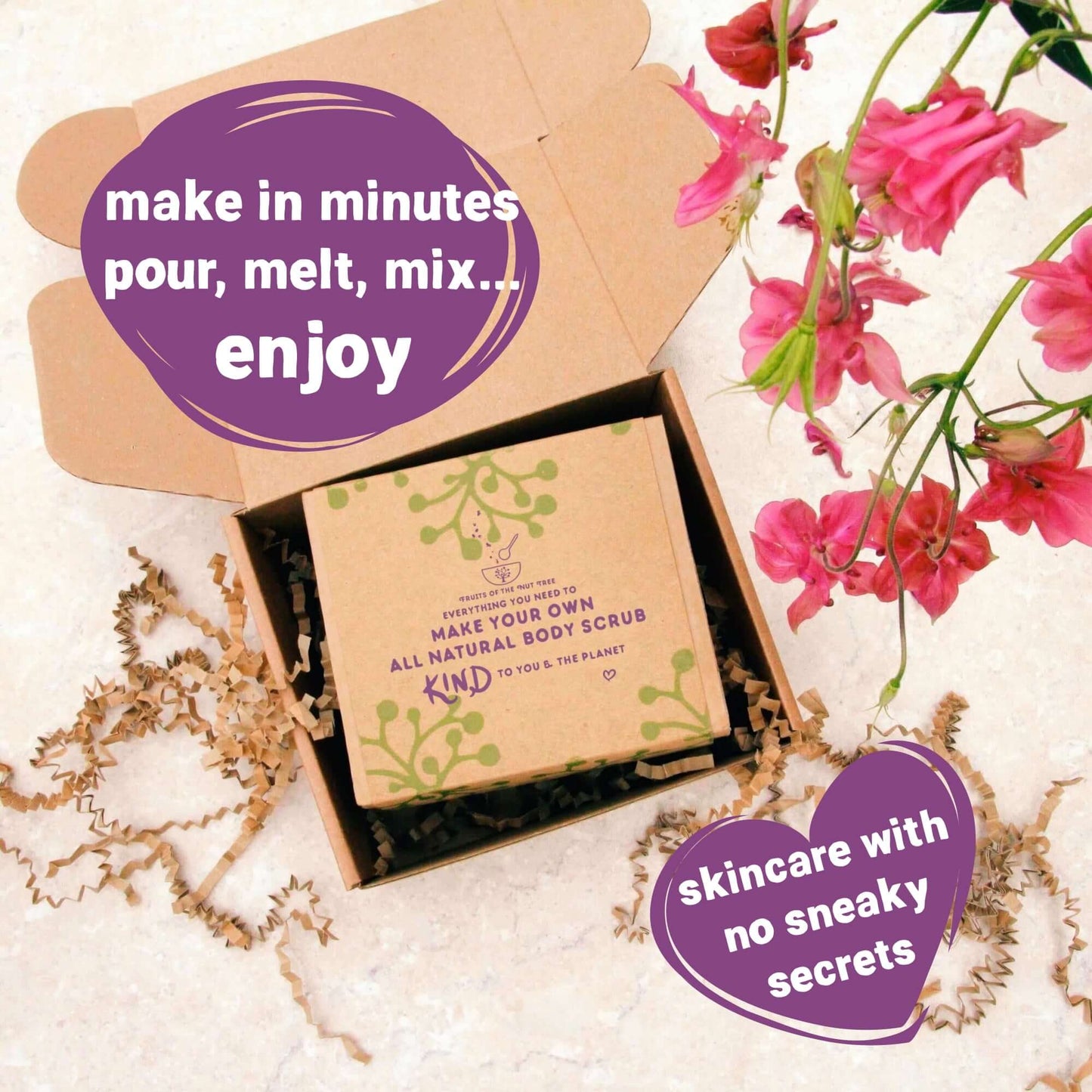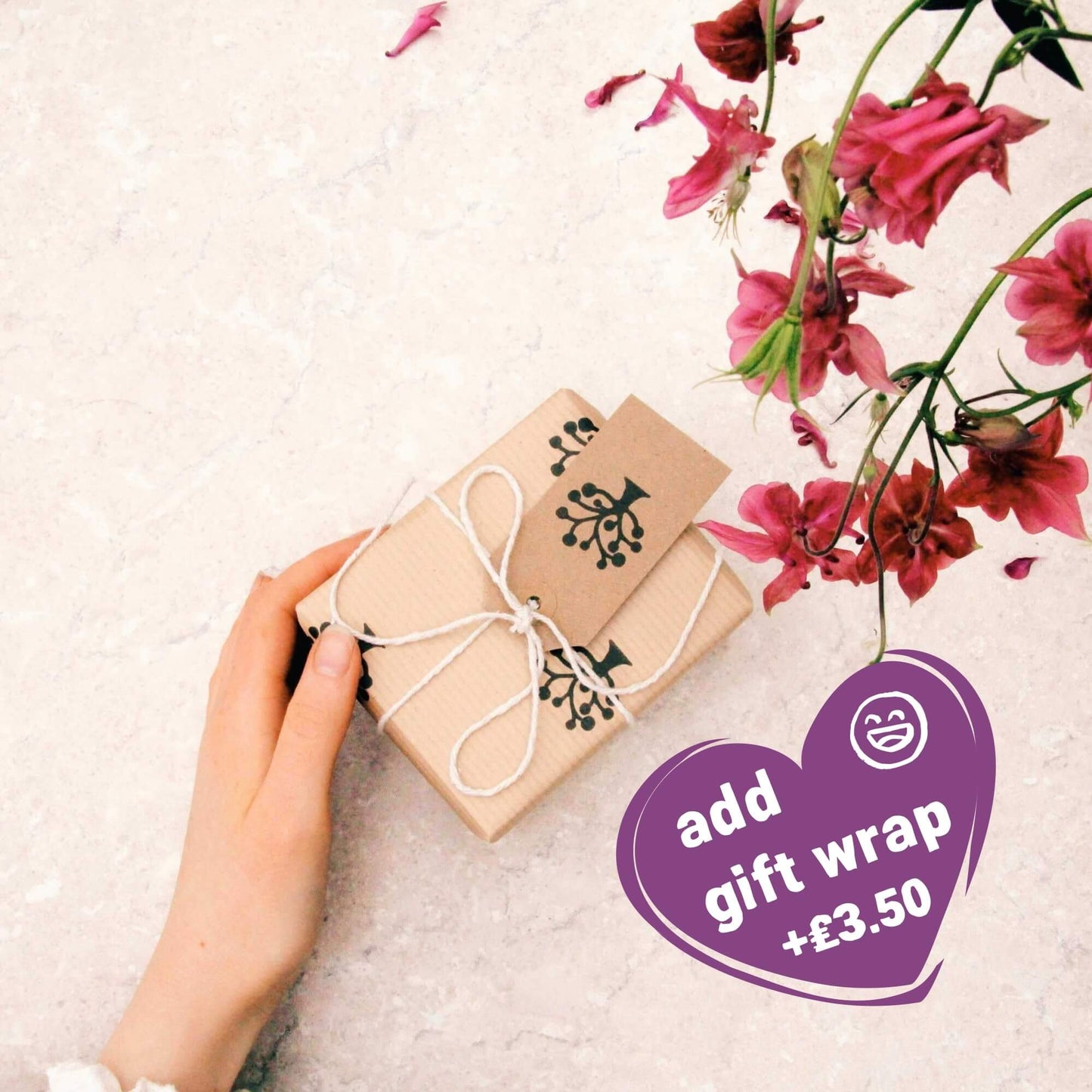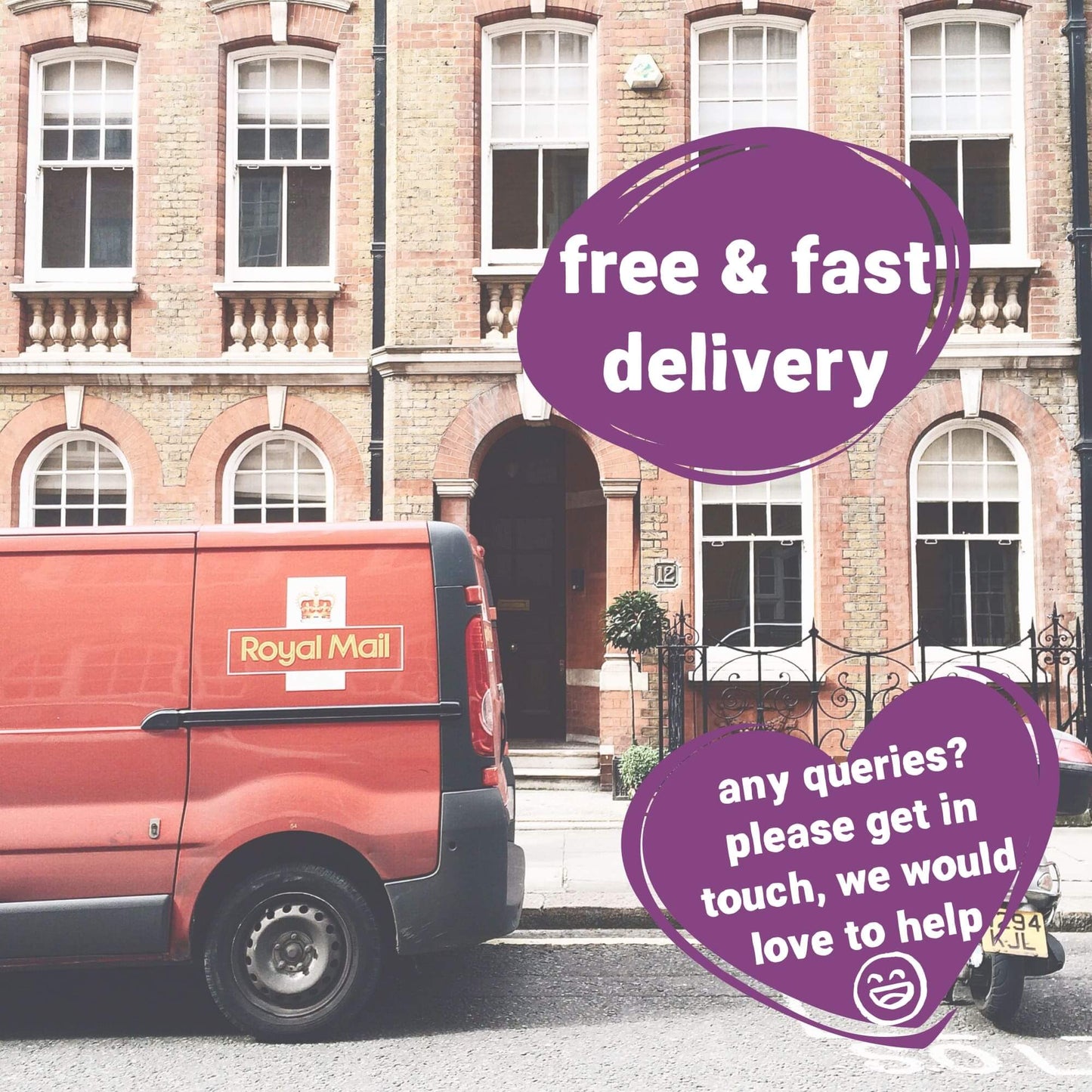 Make Your Own Body Scrub Kit: Your Questions Answered
Why should I choose this "make your own body scrub kit" over a pre-made body scrub?

Making your own body scrub allows you to know exactly what ingredients are going onto your skin, avoiding harsh & unnecessary chemicals and preservatives that pre-made body scrubs often contain. Plus, with this kit all the ingredients are organic and carefully chosen to be the most luxurious.

You also get the satisfaction of creating your own luxurious, eco-friendly body scrub right at home!
What makes this body scrub kit different from others?

Our body scrub kit is like no other because we believe in using only the best organic, vegan, and finest quality ingredients for your skin. We are also committed to using only plastic free packaging and supporting both you and the plant.

With our unbeatable combination of quality, sustainability, fast delivery and customer care, we're confident that you'll fall in love with our body scrub kit just as much as we have!
I've never made skincare before - can I still use this body scrub kit?

Absolutely! Our body scrub kit is designed for everyone - that is at the heart of our business. With pre-measured ingredients and quick & easy instructions you'll be enjoying your very own luxurious body scrub in no time.
Are DIY body scrubs good for you?

With our make your own body scrub kit you get the joy of making your own, whilst also the powerful reassurance that this is a tried and tested recipe.

All of skincare kit have undergone rigorous safety testing and are all approved by the UK safety regulations for skincare.

A DIY body scrub you can really trust.
How long will it take to receive my body scrub kit after placing my order?

We offer free 1st class Royal Mail delivery on all UK orders, which typically takes 1-2 working days to arrive. If you would like your order sooner, we also offer a next day delivery option at checkout for £6.95. And if you order before 1pm Monday to Friday, we'll dispatch your order on the same day!

We're dedicated to ensuring that your gift reaches its destination swiftly, so you can indulge in a plant-powered pampering face mask session without delay. If you have any questions or queries about delivery, please get in touch with us, we would love to help.
Can you tell me more about the ingredients included in this body scrub kit?

We would love to! We love getting to share skincare with complete transparency and sharing these organic, plant-powered seriously luxurious ingredients!

Coconut Oil & Coconut Sugar - From the seeds and the the flower sap of a tree sometimes referred to as the 'tree of life', this amazing oil is naturally antibacterial, antifungal and intensely moisturising and nourishing. It is mainly composed of saturated fats, which are amazing at repairing your skin's natural barrier function.
Cacao Powder & Cacao Butter - From the beans inside the pod-like fruits of the cacao tree, these deliciously smelling ingredients are one of the highest sources of antioxidants on the planet, protecting and repairing the skin by absorbing free radicals that come from pollution and toxins in our environment. There's also magnesium, an anti-inflammatory that can help calm redness and omega-6 fatty acids hydrating your skin! And don't forget they smell like chocolate!
Ground Coffee - From the coffee bean which is the seed found inside the cherry of a coffee plant which are woody evergreens that can grow up to 10 meters tall when growing in the wild. Packed with antioxidants and natural exfoliating properties, coffee can leave your skin feeling rejuvenated, smoother, and radiantly refreshed!